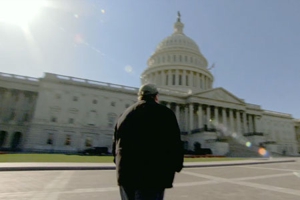 Release Date:
Oct. 2
Director:
Michael Moore
Writer: Michael Moore

Cinematographers: Daniel Marracino, Jayme Roy
Studio/Run Time: Paramount / 120 mins.
Master of agitprop goes for broke and comes up short.
The title of Michael Moore's newest documentary is a red herring. Or false advertising, depending on whether you see him as a streetcorner-prophet or self-satisfied mountebank. Either way, Capitalism: A Love Story probably won't change your opinion of him.
It's not capitalism Moore has beef with, per se, but the Reagan-inspired culture of greed, and the financial deregulation that followed. And in that sense, he's made a documentary on which both sides of the political aisle will find a lot of common ground. American capitalism, he posits, has been subverted by a system of corporate socialism that was responsible for a massive vertical transfer of wealth. A reasonable theory, especially in the wake of the near-total collapse of the American financial system we've witnessed over the last year. And Moore gathers plenty of anecdotal evidence to back it up, which is both the film's greatest weakness and strength.
Capitalism
's whole story is largely anecdotal. Some of these fits and starts do support his bold thesis that "capitalism is an evil, and you cannot regulate evil." Moore leans heavily on interviews (peppered with his now-tiresome stock footage gags) to demonstrate what's wrong with a blind devotion to profit. Teens in Wilkes-Barre, Pa. were given outrageous jail sentences because a corrupt judge was getting kickbacks from a local private prison. Wal-Mart took out an insurance policy on an employee and netted a tidy $1.5 million from her death, without informing her husband.
It's heart-wrenching stuff, and Moore uses it to devastating effect, narrating throughout with his practiced and sagacious tone. But his approach is so scattershot that these disparate stories never quite form a cohesive narrative whole. Representative Kaptur's equation of the TARP bill to a well-organized bank heist makes for a great populist rallying cry, but we're given no solution to these ills. And Moore's proffered panacea to capitalism is an ill-defined (and somewhat intellectually dishonest) call to replace it with "democracy."
As with Sicko and Fahrenheit 9/11, Moore isn't playing the investigative reporter so much as he's sticking to a role he knows well: the all-too-overt agitprop documentarian. Which is a shame; like many of his previous films, a lot of his criticism is spot-on. But without the necessary research to back his conclusions up, his argument falls short of what could have (and should have) been an utterly vital work of criticism and self-reflection.
Watch the trailer for Capitalism: A Love Story:
Others Tagged With