Chris Rock Wants to be Your Black Friend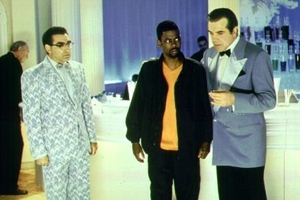 The history of bi-racial buddies in American cinema is an illustrious one. Glover and Gibson (Lethal Weapon), Jackson and Travolta (Pulp Fiction), even Chappelle and Hanks (You've Got Mail). Now, Oprah wants to be sure that Chris Rock is at the top of this list.
Oprah's Harpo Films announced yesterday that it would be partnering with Lionsgate to produce a film starring Rock entitled Will You Be My Black Friend? It is based on Devin Friedman's eponymous 2008 article in GQ. In it, Friedman chronicles his quest to infuse his lily-white social circle with cultural diversity by advertising for an African-American pal on Craigslist, with mixed results. His article comes to reflect upon the state of race relations in America in light of the promises of the then-speculative Obama presidency, with a dry wit that honestly depicts his perspective on the problems of race in today's America.
The premise could make for an insightful, funny movie told in a forthright, no-holds-barred way, with Friedman's acerbic wit and Rock's comedic timing. However, Harpo Films has so far been known for melodramas like
Beloved
and
The Great Debaters
. Let's hope that Oprah and Lionsgate, who have teamed together for the upcoming tragic drama
Precious: Based on the Novel "Push" by Sapphire
, will make
Friend
a comedy with a razor-sharp political-cultural edge.
Related links:
Others Tagged With