Couples Retreat Brings in the Cash for Struggling Universal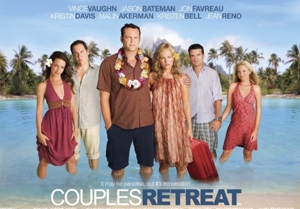 Universal Pictures' big-budget, well-cast, mundanely written and executed Couples Retreat dominated the weekend's box office with opening revenues of $35.3 million. (Zombieland, which opened the week before, came in well in second place with a weekend gross of $15 million.)
This news comes as a much needed boost to the struggling studio, which has had a string of box-office flops this year, and just announced a regime change last week when president and CEO Ron Meyer tapped Adam Fogelson as chairman and Donna Langley as co-chair. Universal has not had a significant hit in seven months, with a string of much-anticipated disappointments like Funny People and Brüno.
However, the financial dominance of
Couples Retreat
is unlikely to last given the quality of the film and the lure of upcoming competition. Warner Brothers' eagerly-awaited
Where the Wild Things Are
comes out this Friday (Oct. 16), and Fox Searchlight releases Hilary Swank's Oscar bait
Amelia
the following weekend (Oct. 23).
Related links:
Others Tagged With