Daniel Johnston's Art Comes To Life On the iPhone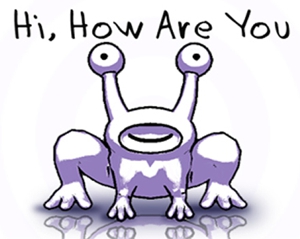 "Hi, How Are You." This is the simple catchphrase minted in singer-songwriter and artist Daniel Johnston's mural, which you may have seen while rounding the corner of 21st Street and Guadalupe in Austin, Texas. The words are painted in bold caps over a poppy-eyed cartoon frog named Jeremiah the Innocent, the new protagonist in an iPhone game based on Johnston's zany yet poignant drawings.

The Texas-based developers of the "Hi, How Are You" iPhone App, Peter Franco and Steve Broumley, designed its gameplay as a wildly chimerical Frogger adaptation, equipped with Johnston-coined tunes for the soundtrack. Players navigate Jeremiah (and his varying incarnations) through a 3-D land crawling with maniacal foes of scarlet demon babies (!!!) and other icons of Johnston's outlandish illustrations.
It's an unsettling setting, mapped partly from the minds of its developers and mostly from Johnston's onslaught of internal afflictions as a victim of severe bipolar disorder. "We wrapped the game around his whole story of a man going through life trying to find his true love but constantly having to contend with evil and with Satan, which are probably the demons within himself," Franco told the
New York Times
. He and Brumley dedicated the past 18 months to fashioning the game.
Odder than the premise behind "Hi, How Are You" is the thought of any technological construct founded on Johnston's portfolio. While credited for his lo-fi pop, he is an artisan of such social recluse that he doesn't own a phone at all. "I don't even know what an iPhone is," Johnson said. But he seemed to appreciate the game after playing it in its developmental stage. "Just another milestone in Daniel Johnston history, I guess," he concluded.
Take a gander for yourself:
Related links:

News: Hi, How Are You? Better, Now That Daniel Johnston's First New Album In Six Years Is Coming
Feature: Daniel Johnston: Scattered, Smothered and Covered
News: Finally, An iPhone App That Lets You Be T-Pain
Others Tagged With