Fall Out Boy Announces Greatest Hits, Pete Wentz Declares "Death of the Emo Haircut"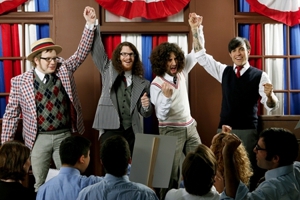 Reason No. 6 why Fall Out Boy does not suck as much as you may think: "They're an increasingly rare breed—that is, a massively popular rock band." And to further classify the band as such a specimen, Fall Out Boy has announced that it will release a greatest-hits album, Believers Never Die.

"This album feels like our high school graduation yearbook," the band's statement reads. "Kinda makes us wanna write 'don't ever change' or 'have a great summer' here."
Fall Out Boy began its ascent to rock star status with 2003's
Take This to Your Grave
, though in recent months it has fought off rumors of an indefinite hiatus. The band, led by songwriter/bassist Pete Wentz, has taken a few other concepts to their graves in recent months, including the "death of neon" in the latest
Clandestine Industries
clothing collection and the "death of emo haircuts" during
Blink-182's reunion tour
:
Wentz likens this to Jay-Z's "Death of Auto-Tune," and considering their reign as kings of pop-punk, the comparison may not be that far off. Devoid of their founding hustle and heartbreak, Jay-Z now calls himself "the only rapper to rewrite history without a pen," while Fall Out Boy have declared themselves "only good for the latest trend" since 2005. In fact, with little to lament but their own fame these days, Wentz and Hova may as well be
neighbors off the same block in Gran Torino
. Wentz denies that a hiatus is in the near future, though no set plans have been made either.
"I think that there's nothing worse than when you like a band and you get their record and you can totally tell that their music is uninspired and they just felt like they had to put out a record," Wentz
told
Reuters the day of his ceremonial shaving. "We have been grinding so much that we haven't had the time to kind of figure out what we want to do creatively."
Related links:
FallOutBoyRock.com
News: Rolling Stones, Killers, Amy Winehouse, Fall Out Boy, Many More Contribute to Climate Change Benefit CD
Review: Jay-Z: The Blueprint 3
Others Tagged With