Win Free Tickets to Where the Wild Things Are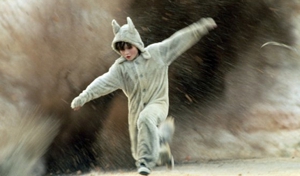 The buzz for Spike Jonze's film adaptation of Where the Wild Things Are has gone beyond deafening. For months, trailers and teaser trailers and interviews were released in drips and drabs, fed to the cinematically-enlightened public hungry for clues on the film based off the Maurice Sendak classic.
Now, thanks to Chud.com (an acronym for "Cinematic Happenings Under Development"), you have a chance to go for free. For those who live in (or want to travel to) Atlanta, Charlotte or Nashville, Chud has a unique
promotion offered through its site
. Here's the deal: if you announce their promotion to your friends via a social networking site (your Twitter, Facebook, etc.) with a link to their promotion page, then send Chud an e-mail with your
mailing
address and a link to the social networking page featuring your shout-out, you will be entered in a drawing to win free tickets to the film (out in wide release next Friday, Oct. 16).
Go wild, everyone.
Others Tagged With