Getting to Know... Zombieland director Ruben Fleischer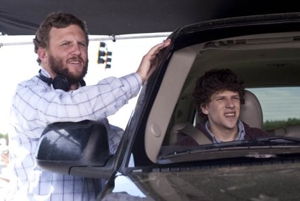 Ruben Fleischer will be the first to tell you he never wanted to be a director. His unlikely career as a filmmaker began with an assistant job on
Dawson's Creek
after he became early casualty of the dot-com boom, and he became set on film only after a movie stint secured by his college friend
Mike White
. A decade later, he's making his feature debut with
Zombieland
, a balls-out "zom-com" buddy flick starring Jesse Eisenberg and Woody Harrelson. He talked to
Paste
about his early years in D.C., his curious career and his role in one of the first viral videos of all time.
Paste: You grew up in D.C. and had no idea you'd work in film, and didn't even particularly want to at that age.
Ruben Fleischer: I never thought I was very funny, and definitely knew I wasn't a performer or anything like that. I definitely wasn't one of those kids who had a camera and was making little movies, trying to go to film school and direct for my entire life.
Paste: What were you into?
Fleischer: I was kind of a nerd. I definitely wasn't dating girls, though I liked them. I was the editor of my newspaper and stuff. You know, I was a nerd… I grew up liking comedy. I grew up watching David Letterman and, like, watching Saturday Night Live and it really informed me with comedy and led me to obscure comedians and stuff. I was more inclined to alternative comedy, and when I moved to Los Angeles, it was really exciting to go to see standup comics and become a real comedy fan.
Paste: You grew up and went to school on the East Coast, so why did you head to the West? Was it kind of a career-oriented move?
Fleischer: Not at all, actually. I took a year off college and moved to San Francisco with friends just because I was not particularly academic. It took me a while to graduate college. I kicked around South America for sixth months, and then after my junior year I went to San Francisco and helped make websites at the beginning of the Internet. I helped make some of the first sites for Microsoft and GM, and I was working for ad agencies.
Paste: You were a history major, right? How did that happen?
Fleischer: I was working as a busboy in San Francisco. And my friend was a computer-science major, and he knew HTML, obviously, and he was making like $50 an hour designing websites, and I was busing tables. He was like, "Dude, this HTML stuff is really easy, just read this book and learn it and you can get jobs." [Laughs] I learned, and then you're 21 and you're making $2,000 a week. We used to go a lot of parties and stuff. It was the rave-y days of San Francisco. But anyway, back to the point: I moved to L.A. for a web job, then went back to college. I became a producer for the web component of a show, and that show quickly got canceled, and I was just kind of stuck in L.A. broke and without a job, so I was asking my friends around if they could help me get a job. And I knew this guy Mike White [screenwriter of The Good Girl, School of Rock and other movies] because he went to my same college, and he got me a job being a PA on Dawson's Creek.
Paste: You eventually worked on Chuck & Buck and The Good Girl thanks to Mike White, too, right?
Fleischer: Exactly. He got me a job as an assistant on Chuck & Buck and The Good Girl and it was really because of those movies that I was like, "Okay, I want to try directing." So I started to make really low-budget music videos for my friends who were in bands and I would make videos with my own camera and I would edit them myself and we would put them online. It was really early, before YouTube and stuff like that. And I did this one that ended up getting seen a ton of times, and it ended up getting seen in the U.K. and I got repped and started doing commercials.
Paste: What was the biggest video?
Fleischer: It was this video for a British rapper called DJ Format, and it was just people rapping in animal costumes. It was an early viral video, before there were viral videos, and I ended up getting a few-thousand-dollar hosting bill for that month because there was so much traffic for that site. I had to talk myself out of it because it was so unexpected.
Paste: So you were in commercials for a while, and how did you eventually end up in features and with Zombieland? I read that the original script was supposed to be a TV pilot but it was too much money.
Fleischer: Yeah, that's exactly right. This was well before I was involved. I forget which network it was, but they had it, and it was originally a TV show that the television network said was way too expensive. And Gavin Polone [Curb Your Enthusiasm, Panic Room], being an industrious producer, said, "OK, let's do it as a movie." It ended up with Sony where he had a longstanding relationship. So the script I had was basically for a TV movie, and they met with a bunch of different directors to figure out how to make this TV movie into a feature film. I think the reason I got the job was because I came up with a pretty good ending for it, and I was really confident and excited about it, and that combination along with the pitch for the ending got me the job.
Paste: I was really surprised to read after I saw the movie that you were never really into zombies before you made the movie and hadn't thought about the genre much. The zombie action seemed so exuberant and loving, like the work of someone who had been watching these movies since he was 10.
Fleischer: I was so insecure, because I know how hardcore and committed the core audience for a genre movie is. I knew that if the true fan base didn't like the movie, then it was dead in the water just because that means a lot. I was insecure enough about the committed fanbase that I did everything I could to make the zombies authentic. That included hiring my makeup guy, Tony Gardner, who worked on Thriller, Return of the Living Dead and other stuff. So he had that covered. We worked really hard to make the zombies scary and disgusting and everything a core audience member would expect.
Paste: I think you guys got the energy down. The violence in the movie is shocking, consistently shocking, even after you see someone's limb get ripped off. People in my screening seemed really surprised.
Fleischer: In a good way?
Paste: Ha, yes, in a good way. People were screaming and laughing and it was just really uproarious. But then the movie is essentially just this sweet romantic comedy at the end. How did you get those two elements to come together?
Fleischer: It's something I was extremely worried about, because not many movies do it well. I guess there's an element of going with your gut, and knowing the movie and having a sense of the themes. It's knowing if it's going to make sense to the greater whole of the movie. I think we establish a pretty bold tone from the beginning, and the narrator even says something like, "Buckle your seatbelts. It's going to be a bumpy ride." And I think he's telling the audience, "Get ready." That gave us permission not only to have people fly through windshields, but also to slow the movie down in the middle and focus on character stuff. I don't really know the correct answer, but I guess for me it came down to going with your gut.
Paste: I've already heard people mentioning a sequel.
Fleischer: Well, I don't really having anything lined up right now. I've been trying to read as many scripts as possible because I'd like to go back to work right away. But I don't have anything lined up, and as for the sequel, I think that's just excited jittering on the part of me and the writers and the cast, but the studio hasn't expressed any direct interest or commitment in that idea yet. But I think that really if the film performs, they wouldn't be opposed to it. We'll see what happens.

Watch the official Zombieland trailer:


Related links:
Features: Best of What's Next 2009: Jesse Eisenberg [Actor]
List of the Day: 25 Indie Films to Catch This Fall
News: Emma Stone joins Woody Harrelson in Zombieland
Others Tagged With