HEALTH Finds Golden Ticket Winner, Announces U.S. Tour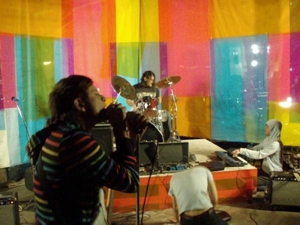 As Paste got to know HEALTH, we found out that the Los Angeles band placed 66 color-coded tickets in random copies of their sophomore LP. Each color designated a prize, ranging from an autographed poster to a framed photo of a band member's mother. But on Monday, one fan found his own golden ticket, winning a trip to Six Flags with the band.

Brooklyn resident Daniel Walsh had purchased his copy of
Get Color
from Brooklyn record store Sound Fix, where HEALTH had performed just two weeks prior. Despite queasy feelings toward roller coasters, Walsh said that his win feels redemptive. "[Winning] has made me realize the necessity of reaching for the golden ticket hidden in all of life's opportunities, disappointments, experiences and interactions," he said at a press conference.
Walsh is now straightening out travel plans to meet the band in Los Angeles for their amusement park adventure. In the meantime, HEALTH plan to perform at select U.S. cities after their European tour.
Dates:
November
2 - Ithaca, N.Y. @ Cornell University
3 - Athens, Ga. @ 40 Watt Club
6 - Dallas, Texas @ The Lounge on Elm Street
7 - Houston, Texas @ Free Press Houston
8 - Austin, Texas @ Fun Fun Fun Fest
10 - Phoenix, Ariz. @ Rhythm Room

Related links:
HEALTH on MySpace
Feature: Getting to Know... Peasant
Ctrl-V: Rhymes with Five: Gossip Girl Stole My iPod

Got news tips for Paste? E-mail news@pastemagazine.com.