Hear Them Crooked Vultures' First Single, "New Fang"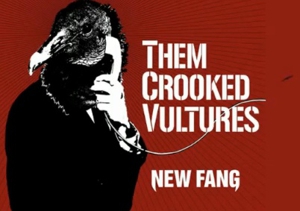 Dave Grohl, John Paul Jones and Josh Homme walk into a bar... At first, the lineup of Them Crooked Vultures sounded so good it just had to be a joke, but there's no doubting it anymore: The new supergroup most likely to create something new and nostalgia-free just released its first single. And it rocks. Hard.
All the players nail their expected role to the fullest—Jones' bass has the same rolling gut-punch as vintage Zepppelin, Homme's guitar riff has an agenda to pummel listeners and, in a refreshing return to form, Grohl beats up his drum kit like a bully collecting lunch money from the playground weaklings.
We could go on for awhile here, but why keep you waiting? Listen to "New Fang" right here:
Them Crooked Vultures' self-titled debut will drop stateside Nov. 17 on DGC/Interscope.
Got news tips for Paste? Email news@pastemagazine.com.
Others Tagged With