Jay-Z and Regina Spektor Stack Some "Crispy Benjamins"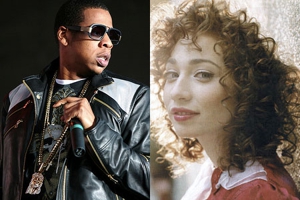 Like hardboiled noir detectives, we've been hitting the streets lately for the skinny on the shifting musical predilections of one Shawn Carter, AKA Jay-Z. We had our suspicions that he was wandering into, um, indie-er, musical territory when he put Luke Steele of Empire of the Sun on the opener of The Blueprint 3. Then came exhibit B: photographic proof of Beyoncé and he at a Grizzly Bear show in Brooklyn. Book 'em Danno, because we've got the last piece of evidence we need to wrap this one up: Jay-Z is sampling Regina Spektor for an upcoming track titled "Crispy Benjamins."
According to a
press release
from New Familiar Music Group, Hova recently purchased the rights to "Crispy Benjamins" from producer Mirk of NFMG. And the kicker: it features a sample of "Chemo Limo" from Spektor's 2004 LP
Soviet Kitsch
. But twists and turns yet remain in a case as labyrinthine as
Kanye's hair
. The press release hints that the song will feature on a record "scheduled for release in 2009." Sleuths over at a Regina Spektor fansite
theorize
that it could be a bonus track to an as-yet-unannounced re-release or b-sides collection for
The Blueprint 3
.
That's a whole mess of speculation, so we won't venture any further into the shadowy backalleys of the hypothetical. Although this case may not be closed quite yet, one thing's certain: Spektor probably just received a nice stack of benjamins (some crispy, some not) from Jay-Z.
Related links:
Others Tagged With