J.J. Abrams' New Spy Series Sparks a TV Bidding War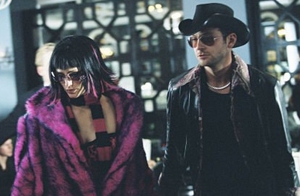 ABC, NBC and CBS are currently in a bidding war for J.J. Abrams' spec script for a new spy series.
Mr. Jeffrey Jacob Abrams has a storied history with spy-themed TV shows. He wrote and produced the Jennifer Garner launchpad Alias, which went off the air in 2006. Since then, he's been working on the series Lost and Fringe, as well as directing this summer's Star Trek movie.
Along with writer Josh Reims, with whom he produced and wrote
Felicity
a decade ago, Abrams has completed the new pilot about a married couple who work together as spies. The series, which sounds an awful lot like
Mr. & Mrs. Smith
, is a hot commodity for the three major networks, but the
Hollywood Reporter
has indicated that NBC is close to edging out the competition and securing the deal. NBC, which has been
struggling in the ratings
this season, already has the spy series
Chuck
on its roster (both
Chuck
and the nascent project by Abrams are produced by Warner Brothers Television).
Meanwhile, Abrams is stepping outside of the creative box. In the last month, he signed on with
Fox
to executive produce the pilot of a half-hour medical comedy that was written by Mike Markowitz (
Becker
).
Related links:
Others Tagged With