UK's Five Dumps Liz Lemon and 30 Rock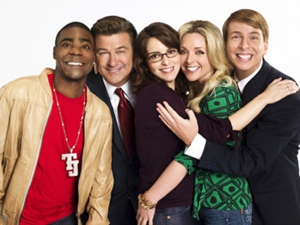 American audiences are brimming with giddy anticipation for 30 Rock's Season Four premiere on Oct. 15, but the enthusiasm apparently doesn't quite make it across the Big Pond, and neither will the show. That is, at least, not via the UK's Five broadcasting channel.

Five decided to stop airing the series due to a dwindling viewership. "30 Rock just didn't find a big enough audience in the UK, although it was critically well-received," a Five spokeswoman told BBC News.

Creator Tina Fey's series, a winner of 10 Emmys and five Golden Globes, only pulled in 500,000 viewers during its first season on the British channel. This resulted in its move to digital sister channel Five USA for its second season, where its audience further tapered off to a mere 100,000.

Although 30 Rock is approaching its fourth season in the States, the show's third season, and arguably its best, has yet to air in England. This delay for imported sitcoms is a common gripe for overseas audiences.

Comedy Central saved the day for 30 Rock's faithful British remnant by obtaining the exclusive UK rights to air the third season, beginning Oct. 5. The show will accompany the American born Two and a Half Men, Samantha Who? and new episodes of South Park.

Others Tagged With