Listen Up: After Far, Reconsidering Regina Spektor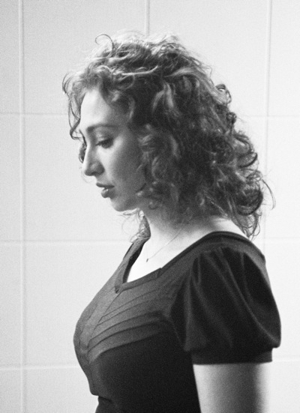 I don't like Regina Spektor's new album, but maybe you already knew that.
It's called Far and it came out in June. When I reviewed it for Paste I rated it 49 out of 100—officially the lowest score I've ever given a record. (Ben Kweller is surely glad to be relieved of his title.) You can read the full review here, but to sum up my frustrations with the album, I'll say this: Far seemed to me to be a mostly over-produced, clammy-handed, weirdly listless collection of songs from an artist that I'd previously thought might be on the verge of making the most vibrant, untethered, wild-eyed album of her career.
I loved Spektor's two earlier albums, Soviet Kitsch and Begin to Hope, each in their own way—one for its roughness, one for its smoothness, and both for their bright wordplay, kinetic lunacy and her glorious, caroming voice. But Far felt like it was smothered with a damp, musty rag (or perhaps four damp, musty rags—one for each of the producers she pulled in who seem to have done nothing but muddle the proceedings).
Apparently, though, a lot of people disagree with me—which is par for the course for any review, of course, especially a pan. But man, I had no idea how intense people get about this lady! They sure don't like it when you call her "detached" or suggest that maybe some of her songs aren't as good as others. It's not like the review stirred up some huge shit-storm or anything—just 10 comments on our website, a handful of emails and some pretty peeved Twitter messages. But here's some context: The story I wrote last year on Joel Chandler Harris, the 19th century Atlanta-based author who created the character of Uncle Remus and is blamed by many for Disney's great cinematic blight, Song of the South, received precisely two written responses. Two! That's likely the most least-uproarious reaction to any story using the term "tarbaby" in the past forty years. So excuse my befuddlement when, a year later, I suggest that the new album by a piano-playing indie darling maybe—just maybe—isn't so hot, and the feedback rolls in ten-fold.
I guess this shouldn't have surprised me. It's certainly easier to form an opinion about Regina Spektor than some semi-obscure 19th century Southern folklorist of fraught repute. And she's not just easy to like—she's easy to love deeply and fiercely. Her songs seep into your bones and feel so specifically personal, so meant just for you. I know that because it's happened to me. There are some songs on Begin to Hope, despite their shiny, eager-to-please radio-readiness, that still get me totally choked up when I'm singing along in the car at the top of my lungs, feeling like the only girl in the world, my crappy Subaru speakers crackling under the pressure.
And so that's why it stung when people asked me, as several did, "Did you even listen to the record?" First of all, yes, of course I listened to it. My job as a reviewer is not a hard one, really. There are basically just three steps: 1) Procure the album. 2) Listen to it—a lot. 3) Dump thoughts on album into a Word doc and shuffle them around and try to make something nice out of it. That's it. Boom goes the dynamite, etc.
The question assumes that if I would just back up and actually do my very simple job that I am perceived to have not done, the resulting review would be markedly different. That listening necessitates loving and that if I wasn't loving it, well, then I just wasn't trying. And that's so funny to me because, fun fact, I actually want to love pretty much every album that I write about. Despite how weirdly, deeply satisfying it is to write a scathing pan, it's about a hundred times more exciting to find music that I can get behind one-thousand percent and push onto friends and, years later, still cry over—still love. And I really, really wanted to love Far.
To be clear, I don't hold the album against Spektor. I think she'll turn around, move on, make some better albums—probably some worse ones, too, but that's just how it goes for someone who's going to be around as long as she surely will. One day she'll make her Blonde on Blonde, yes, and then in her old age she'll make a haggard, depressing Christmas album, and we'll all just sit back and sigh and laugh about how the good times always make the bad times worth it.
And so I was glad to go see her in concert last week in Atlanta at the Tabernacle, where my seats were better than I expected and the crowd on the floor below was giddy, screaming, exploding with camera flashes. It was a chance for her to prove to me that all the weirdness and those rough edges were still there, and she mostly followed through.
Spektor shone onstage, literally—she was wearing an sequined tunic that made her look like whole clear night sky compressed into one small human body, with a crown of red hair and a wide, grateful smile. Her voice was stunning and her band (a cello player, violinist and dummer) was in nice form, if not a little superfluous—she could easily carry a whole show by herself, just her and whatever might be around to pound on.
And yes, she did some of her famous chair-drumming, coming so close to breaking her drumstick on "Poor Little Rich Boy," from Soviet Kitsch, that I was bracing for the screams not of music-fan ecstasy but utter pain as tiny, flying wooden shards pierced a mass of upturned, front-row retinas. It was so badass as to almost erase the memory of the roadie that emerged just to cart the old chair ten feet over to her at the piano bench (at least until he popped back out to carry it away at the end of the song) if not quite Far itself.
I liked the old songs better than the new songs (I don't know if I'll ever really like these new songs) and I was surprised to feel the crowd energy mostly swing the same way. But it was a song I'd never heard before that was my favorite of the night—"Silly Eye-Color Generalizations," which she plays live sometimes but isn't on any of her albums. I don't know how she usually does it, but we got a stunning a capella version, kind of an anti-folk torch ballad with just her onstage, holding the mic in one hand and tugging nervously at her jeans-front with the other. Up in the balcony I sat rapt, unblinking, until some folks got impatient and chatty at the bar down below and she broke off halfway through. "Shut the fuck up," she said to the crowd, frankly but not scoldingly, smiling but not at anyone. People cheered and the offenders took heed and then she went back to singing about plaid and polka-dot eyeballs, dirty ice that somehow always melts back into clear blue water.
Oh, there we go.
And so here's to rough edges, to making people happy and making people mad—you'll be seeing a little bit of all that here in the weeks ahead. This is the first edition of my new weekly music column for Paste, so please come back to see how it goes.
In the meantime, here's video of Regina Spektor returning to form in Atlanta last week, thanks to YouTube user dullscissors:
Rachael Maddux is Paste's assistant editor. Her column appears at PasteMagazine.com every Monday.
Others Tagged With