Mastodon Talks Jonah Hex Score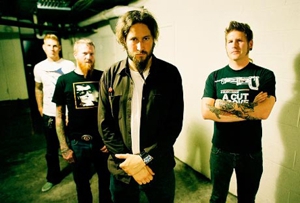 Mastodon loves a good story.
The Atlanta metal band wrote an album based on Herman Melville's Moby Dick with 2004's Leviathan. This year's Crack The Skye told of a paraplegic traveling through space. But the band's next project may tell its most ambitious tale yet. As previously reported, Mastodon has written the score to the film adaptation of the gnarly comic book Jonah Hex, which is slated to hit theaters in June 2010.
As Mastodon bassist Troy Sanders told Paste, creating a film score wasn't entirely different from the band's usual songwriting process. "Since day one, we've always written albums thinking the music was the score of a movie," Sanders said. "Then we'll create the lyrics or story line on top of that, as if we're writing the dialogue to match the movie's cinematography."
Fittingly, the story of how the band came to work on a flick starring the likes of Josh Brolin, John Malkovich and Megan Fox is worthy of its own album. Mastodon spent much of summer 2009 on the road in Europe with Metallica. While the nine-week tour, Sanders said, was incredible, it left the band feeling disconnected from home. "I felt my dogs wouldn't even recognize me," Sanders said.
Just before crossing back over the Atlantic, Mastodon received a phone call from an enthusiastic fan. It was director Jimmy Hayward, who said he'd been inspired by repeated listenings of Mastodon's 2006 epic, Blood Mountain, and that said inspiration had helped him finish up a little project he was toiling over—the script for Jonah Hex. The album weighed heavily on Hayward, Sanders said, and so he wanted Mastodon to weigh heavily on his movie. "As opposed to labels profiteering the situation, saying they'd give a band $500,000 to use some song, he called us out of the blue as a fan," Sanders recalled. "It was the most beautiful, authentic way to collaborate."
With the band's collective interest piqued, Mastodon guitarist Brent Hinds accepted Hayward's invitation to visit the New Orleans set of Jonah Hex, where, Sanders said, "they were immediately on the same wavelength of art, music and life in general." Hayward even gave Hinds a cameo in the flick; he's the first of 172 poor souls to be slaughtered onscreen.
Their families (and forgetful dogs) on hold for another two weeks, the men of Mastodon flew to Los Angeles to meet Hawyard and begin recording what would become the score of Jonah Hex—all on good faith, as the gig paid "basically nothing."
"[The movie budget] covered our studio fees, but it was a break even deal," Sanders said. "Malkovich, Brolin and Megan Fox all took pay cuts to be a part of this movie—that alone speaks volumes about how much people care about this film."
"I guarantee an incredibly popular misconception will be, 'Oh my god, they're selling out doing a fucking comic-book movie. They probably got a huge paycheck and don't give a shit about integrity,'" Sanders continued. "The fact is the exact opposite. We sacrificed another two weeks away from home to give away an album's worth of material for nothing in return but satisfaction in being a part of something incredible."
Mastodon kept a low profile in Los Angeles last month, where Hayward "played scenes for us and gave us all day long to create music that matched the emotion of the scene," Sanders said. "It was flattering to be given 100% creative control in this movie. It was very pure, it was real creative and totally spur of the moment."
The resulting music is about an hour long in total, all instrumental, including five full songs and many smaller musical themes adapted throughout. Upon finishing, it was then given to composer John Powell ( Shrek, The Bourne Identity), who will paste the music to the movie. Some of the material, Sanders said, will likely be adapted for the London Orchestra for particularly epic scenes. "We wrote variations on themes for each character, different variables for a bunch of riffs: faster, slower, heavier, lighter," Sanders said. "It's the Darth Vader approach."
Historically, Mastodon's been classified mostly within the metal and prog spectrusm, but Crack the Skye saw the band stretch out its sound. The Jonah Hex score, however, could contain the most expansive Mastodon material to date. "Some of it was heavy, some of it was very moody," Sanders said. "A lot of it was spacey, Melvins B-sides, Pink Floyd-like, surreal outer space, like Neil Young's Dead Man. Swirling, nausea music."
Regardless of the style, Sanders said, Mastodon will proudly stand behind the score. "We create music from the heart, period," he said. "Whether it's playing at a nine-year-old's birthday party or a sold out arena with Metallica, we don't care. It's always pure, it's always authentic. We all high five at the end of the day; that's why we do what we do."
Got news tips for Paste? Email news@pastemagazine.com.
Others Tagged With