Adrien Brody and Topher Grace Join Robert Rodriguez' Predators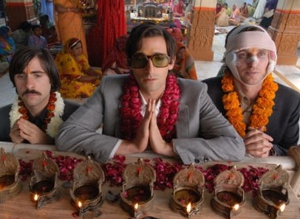 Adrien Brody has reportedly joined the cast of the Robert Rodriguez produced Predators, and Topher Grace is also in talks to sign on.
Rodriguez (director of Sin City and Grindhouse: Planet Terror) is helming the film directed by Hungarian-American director Nimród Antal. Antal directed the much-lauded 2003 film Kontroll and the generally panned 2007 Vacancy starring Luke Wilson and Kate Beckinsale.
Predators
is a reboot of the 1987 sci-fi thriller
Predator
,
starring Arnold Schwarzenegger, about soldiers who must defend themselves against extra-terrestrial attackers. In the remake,
Brody
would play an unlikely military leader who must step up as a "hunter of men." Brody and his reps lobbied hard for him to be cast in this role, an unusual one for the star of
The Pianist
and
The
Darjeeling Limited
. Topher Grace, if cast, would play to type as an accountant whose mild manners mask his true nature as a serial killer.
Predators, backed by 20th Century Fox, is currently in pre-production, to begin shooting next month in Hawaii and then later at Rodriguez' Troublemaker Studios in Austin, TX. The film is slated for release in the summer of 2010.
Related links:
Others Tagged With