New York, I Love You Review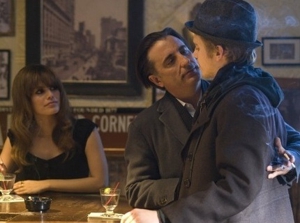 Release Date: Oct. 16
Directors: Brett Ratner, Natalie Portman, Mira Nair, Jiang Wen and others
Writers: Anthony Minghella, Hall Powell and others
Cinematographers: Benoit Debie, Pawel Edelman and others
Starring: Natalie Portman, Orlando Bloom, Bradley Cooper, James Caan
Studio/Run Time: Vivendi Entertainment, 110 mins.
Romantic travelogue hits turbulence
Like
Paris je t'aime
, its similarly titled forerunner,
New York, I Love You
cobbles a series of interwoven vignettes into a feature focused around metropolitan monogamy and geographic adulation. This new entry takes the process a step further by stitching every character into a shared universe, but the design proves largely inconsequential without a central conflict and conclusion. The biggest problem, though, is the sheer lack of consistency. Just like our favorite hormonally inspired mixtapes, the sum here does not necessarily exceed the parts: Chemistry ranges from adorable (Olivia Thirlby and Anton Yelchin) to combustible (Ethan Hawke and Maggie Q) to downright creepy (Chris Cooper and Robin Wright Penn). The offerings from Brett Ratner and Natalie Portman are the lone hot spots in a line of increasingly impotent misfires from foreign directors who opt for lethargic shots and meandering dialogue. Audiences will have to be extremely charitable to find merit in this uncoordinated train wreck.
Watch the New York, I Love You trailer:
Others Tagged With