Paste's Fall Guide to Good TV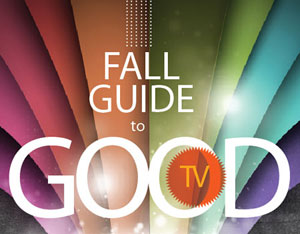 Over the past few months, I've been a part of something completely new for me—creating a TV show. Our friend Becky Henderson is launching a new network this fall called Halogen, with a focus on "themes of social justice, art and culture, relationships and purpose." The network's original programming will include shows like Noble Exchange: Africa, where documentary filmmakers will discover what Africa can teach the West instead of vice versa, and Start-Up, a half-hour comedy about a group of friends trying to launch the next social-networking hit. She asked us for show ideas, and we ended up creating the pilot episode of Pop Goes the Culture, an hour-long entertainment show that's a little like our magazine come to life onscreen. The pilot should air sometime this fall.
The whole process gave me a deeper appreciation for what goes into creating good television. This past summer, I started watching The Wire and Weeds. I thought about adding Breaking Bad to the mix—just so I could call it my Summer of Drug Television—but settled on Dexter instead. All these shows reinforce my belief that the young millennium has launched a new Golden Age of Television. Granted, there are countless terrible shows polluting the airwaves—but there are also more smartly written, well-acted, epic storylines playing out on the small-screen than ever before.
For this issue of Paste, we scoured the ever-growing TV landscape and parsed a new slate of pilots to find you more than 40 shows worth checking out (of course, we don't expect you to watch all of them). We're most excited about Jason Schwartzman's new half-hour HBO comedy, Bored To Death, which is also this month's cover story. And we're also looking forward to David Simon's New Orleans-based Wire follow-up, Treme due in 2010. But most of all, we can't wait to show you what we've created ourselves.
Cover story:
Jason Schwartzman: The One Where He Tries to Solve the Puzzle of Life
Comedies:
Curb Your Enthusiasm
It's Always Sunny in Philadelphia
Californication
How I Met Your Mother
The Daily Show
The Colbert Report
The Middle
Modern Family
Cougar Town
Community
The Office
30 Rock
Animation:
The Cleveland Show
Venture Bros.
Phineas and Ferb
Drama:
Dexter
Mad Men
House M.D.
Glee
Heroes
Flash Forward
Dollhouse
Occupation
Southland
Trauma
Friday Night Lights
Sci-Fi:
Stargate Universe
Doctor Who: The Waters of Mars
V
Battlestar Galactica: The Plan
Reality:
Project Runway
The Rachel Maddow Show
The Soup
Top Chef
Cake Boss
College Gameday
Music:
Austin City Limits
Subterranean
Embedded
The Roots on Jimmy Fallon
Internet TV:
Alive in Baghdad
Ctrl
Wainy Days
The Guild
Others Tagged With