Penn & Teller to Host "35 Years of Magic & BS" Benefit Show in NYC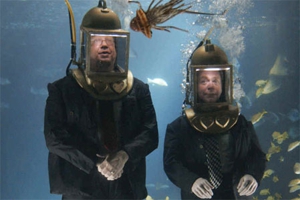 Penn Jillette (he of libertarian fame) and Raymond Teller (he of silence fame) have had a comfortable career walking the line between manic meta-raconteurs and stage comics. Their early days on the late-night talk show circuit blossomed into a full-time gig in Vegas, and birthed their thought-provoking (and provocative) Showtime series, Bullshit! Always ones to lend their fame to a good cause, the duo recently announced they'll be hosting a benefit show for Bill Graham in New York City on Nov. 12: "35 Years of Magic & BS."
"Our first ticketed show in NYC in over 9 years (that's almost 10!) will be a Q&A for P&T with a few classic bits thrown in for good measure," Jillette explained in a recent statement. "We wanted to donate magic equipment, but we were convinced all the cool kids want to play music. Oh, and yes, Teller WILL speak."
The limited-engagement, 400-seat show will take place Nov. 12 at the Gramercy Theatre on 127 East 23rd Street. Funds raised by the even will go to benefit arts and music at a local school in the tri-state area, to be selected by VH1's Save the Music Foundation. Tickets are available now at
LiveNation
.
Related links:
Others Tagged With