Phoenix Gets Remixed by Devendra Banhart, Works on Sofia Coppola's New Movie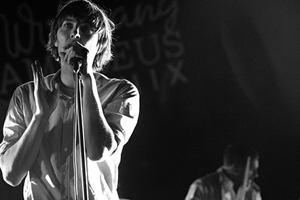 Mere months after releasing a new-album-turned-windows-down-summer-staple, French pop group Phoenix is now ready to work with others with the same approach it took in "1901": "Past and present, they don't matter, the future's sorted out."

For instance, following the band's appearance as a lute-playing quartet in Marie Antoinette, frontman Thomas Mars has agreed to soundtrack Sofia Coppola's upcoming film Somewhere, as The Playlist reports. Coppola has also cast cousin Robert Schwartzman, brother of Jason Schwartzman, alongside Benicio Del Toro, Stephen Dorff and Elle Fanning, making the project all the more in the family. After all, Mars and Coppola have a kid together.

But as Phoenix rekindles an old work relationship, they start another with weird beard Devendra Banhart, this time in the form of a remix. His efforts in "Rome (Neighbors with Devendra Banhart)," are surprisingly focused, adding a dreamlike quality to a track normally grounded through heavy beats.

"We LOVE and have LOVED Phoenix since Alphabetical, and have wanted to do more than just ogle at their awesomeness for quite some time," Banhart said on Phoenix's blog. "With the release of their luminary Wolfgang Amadeus Phoenix we got the chance to un-floccinaucinihilipilificate our dreams and with awesome, oceanic glee, we took Rome for a ride."

Phoenix will next head to Austin City Limits and Europe.

Related links:
1000 Words: Phoenix - New York, NY - Central Park SummerStage - 9/26/09
News: Devendra Banhart Signs with Warner for New Album
Review: Lost in Translation

Got news tips for Paste? E-mail news@pastemagazine.com.
Others Tagged With