Ed O'Brien Confirms Radiohead "WILL BE MAKING AN ALBUM" to be Released in 2010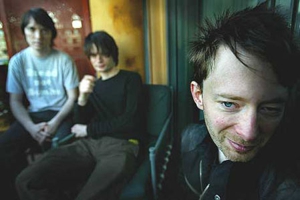 In the waning days of this past summer, a meager handful of days after the release of a new song, Radiohead frontman Thom Yorke was quoted as saying that full-length studio albums have become "a real drag" for the group. "None of us wants to go into that creative hoo-ha of a long-play record again," he said, before dropping a few more quotes that seemingly drove the final nail into the coffin for another Radiohead album in the near-future, if ever. His comments set off a flurry of speculation: Was Radiohead going singles-only? Did this have something to do with a new business model, a la the release of In Rainbows?? He didn't say anything about double albums, right??? Etc.
As hard as it is to misconstrue Yorke's very definitive statements, guitarist Ed O'Brien delivered a well-aimed shot of tranquilizer to the hordes of fans forlornly scrawling the
W.A.S.T.E. bears
into funereal tableaus. "We were misquoted," he
told the
NME
, before adding (loudly, apparently), "WE WILL BE MAKING AN ALBUM!" Phew.
The band aims to reconvene in their Oxfordshire recording studio this winter and get down to the business of recording another full-length LP. But if the what is clear enough, the how of the album's release remains to be seen: "We love the artwork; that's really important, the physicality. And we all like vinyl. That's not going to go away. I still like CDs as well. I got the Speech Debelle CD the other day - I nearly downloaded it from iTunes but I thought, 'No. I want the physical thing.'"
And what will this still-conceptual work sound like? O'Brien is tight-lipped on that, though he warned that "These Are My Twisted Words" shouldn't be taken as a bellwether for what the next album will sound like. "It's a kind of one-off," he explained. "It could have been a darker side of In Rainbows - it's got that autumnal vibe, we're leaving the summer and going into the darkness."
From the sound of that, it seems like we've got an even bigger mystery on our hands than when we started: Has Thom Yorke
gone native
?
Related links:
Others Tagged With