Salute Your Shorts: Spike Jonze's Documentaries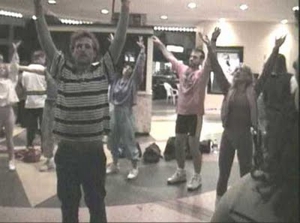 Salute Your Shorts is a weekly column that looks at short films, music videos, commercials or any other short form visual media that generally gets ignored.
Because he wears so many different hats, a lot of things come to mind when thinking of Spike Jonze. Music-video auteur, skate-video mastermind, postmodern trickster of film—all of those are pretty much de rigueur for any article about his works, and do a good job illustrating just how varied those works are. That the same person can make a film as deeply moving as Being John Malkovich and also be the producer behind the fun but ultimately vacuous Jackass series has always been part of his charm. Still, one thing that rarely gets spoken about is Jonze the respectful and attentive documentary filmmaker, even though his works in that genre have been if anything more consistently brilliant than in anything else he's worked at.

Maybe it shouldn't be too much of a surprise, though, that Jonze began dabbling in documentaries back in 1997. In a sense, his career was founded on them. Both the photography and early skateboard videos he took were documentary in nature, and while he at times grafted plots and stunts onto them, at their heart, skate vids are just sports documentaries with a different focus. The tools of the trade are still the same. Jonze's skate vids use on-location shooting with video cameras and cheap microphones, allowing him to shoot anywhere at any time with minimal notice. The Jackass movies and shows he worked on are little more than taking the same skate vid techniques and filming stunts of a different type. This guerilla filmmaking, without permits or much planning, became a trademark of Jonze's in music videos during the ensuing years.

While he later moved on to much more ambitious techniques, many of Jonze's earliest music videos took his guerilla method of filming and used their rough footage in a direct confrontation to the sort of slick videos by Michael Bay and David Fincher's that were currently in vogue. In "100%," his skate footage was shot exactly how his videos had been and then was edited in to add an element of realism to things. The highlight of his early semi-documentaries was definitely "Sabotage" for the Beastie Boys. On the one hand, it had Jonze and the band dressed up as 1980s TV police officers, running amok on fictional criminals with their created personas. On the other hand, though, all the footage was taken out in the streets with no permit or warning to anyone passing by. The whole video was shot in quick succession with little planning other than the purchase of a couple impressively fake-looking wigs. The ensuing chaos is a pretty amazing semi-documentary, a landmark for copycat music videos to follow.