Everybodyfields' Jill Andrews Announces Solo EP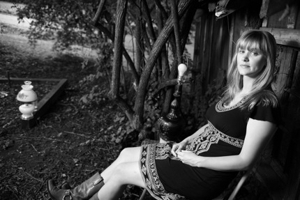 It's been just over five months since The Everybodyfields broke up, but former bandleaders Jill Andrews and Sam Quinn haven't wasted much time crying in their respective beers. Quinn and his new outfit, Sam Quinn + Japan Ten, have been playing a bunch of live shows and are aiming to release a debut LP sometime early next year (with Quinn apparently eyeing a side-career as an infomercial host). Meanwhile, Andrews has been working on two very special projects of her own, too.

One's musical, a self-titled solo EP coming Oct. 26. The six songs were produced by Andrews and recorded live to 8-track by Sparklehorse collaborator Scott Minor at his home studio in Knoxville, Tenn. Everybodyfields fans will recognize more than a few of the songs, which she'd been performing live with Quinn up until the last Everybodyfields show in 2008 (a few of which
the band played Live at Paste last November, too
).
Oh, and Andrews' other project? A baby! Yay! We feel not quite like total creeps for mentioning this, as
the little fella recently made an appearance (along with Michael Jackson)
in one of his mom's new monthly cover-song videos. Not so musical yet himself, though we're sure he's well on his way.
Jill Andrews
EP tracklist and cover art:
1. A Way Out
2. Always Be Sorry
3. City Noise
4. Sweetest In The Morning
5. These Words
6. Worth Keeping
Can't quite wait for Oct. 26? You can pre-order the EP for $10
right here
. The first 200 orders get a signed copy, and there's also a real fancy limited-edition art package featuring a framed print by
Justin Helton
, plus MP3 downloads of the whole album. If you're feeling lucky, you can also
enter to win an art edition from Paste
. Fancy!
For tour dates, updates and the occasional baby photo,
follow Jill Andrews on Twitter
. And watch her cover Neil Young in her latest video update right here:
Related links:
News: The Everybodyfields Break Up, Announce Solo Projects
Feature: Best of What's Next 2008: 22 up-and-coming artists you ignore at your own peril!
Contest: Win a Limited Edition Art Pack from Jill Andrews
Others Tagged With