Spoon's New Album, Transference, Coming in January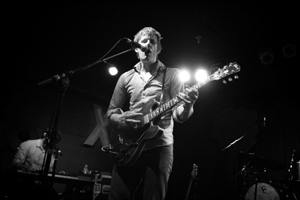 Merge Records has confirmed a Jan. 26 U.S. release of Spoon's seventh-full length album, Transference.
The ghost of Spoon's Ga Ga Ga Ga Ga has lingered for more than two years now, with its charming misspellings ("Don't You Evah," "Rhthm & Soul") and carefully crafted pop rock. Little information of any follow-up had surfaced since, though this changed a few weeks ago thanks to one helpful publicist and remarkable listening session.
As NPR's Bob Boilen recalls, said publicist approached him at D.C.'s 9:30 Club by saying she had something he would want to hear. The two went in her car and listened to about half of the record before the All Songs Considered host determined Transference as something to look forward to next year.
"It's one thing to play a poignant guitar part, but the next part of the art is mixing it at the right volume, placing it in the best position in the stereo field to serve the song, putting just the right effect on it to either blend well with the song or act as counterpoint," he said. "That care and craft is what I was hearing in the Spoon record."
The U.K. release of Transference is also set for Jan. 25 through Anti-.
Tracklist:
1. Before Destruction
2. Is Love Forever?
3. The Mystery Zone
4. Who Makes Your Money
5. Written in Reverse
6. I Saw the Light
7. Trouble Comes Running
8. Goodnight Laura
9. Out Go the Lights
10. Got Nuffin
11. Nobody Gets Me But You
Got news tips for Paste? Email news@pastemagazine.com.
Others Tagged With