Start Press: If I Could Turn Back Time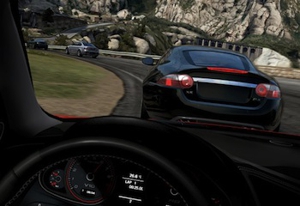 In the past I've tended to avoid racing games that strive for a realistic simulation of the driving experience. As far as I was concerned, the brake pedal existed for morning commuter traffic, not virtual speed-demon fantasies. I could abide the handbrake, but only because it allowed you to go drifting around bends, tires screeching like a pack of bloodthirsty harpies on the attack. But it felt wrong that a game would require you to slow down in order to be successful. Inevitably I'd spend a few minutes skidding off the track and spinning my tires in the sand or grass or dirt before ejecting the game and reaching for an over-the-top arcade racer like Burnout Paradise.
Maybe I've matured over the past couple years. Maybe my gaming palate has broadened without my realizing it, but Forza Motorsport 3 arrived a few days ago and I've been buckled into it ever since. As I got the hang of applying the brake in my cornering, I discovered a whole new adrenaline fix—by achieving the perfect angle coming out of a corner, mashing the gas pedal to accelerate furiously into the next straightaway and feeling your spinning tires secure their grip on the asphalt. If you never slow down, you never get to fully appreciate the acceleration that rockets you from one end of the spectrum to the other. Consider the importance of dynamic contrast in music. If a mixing engineer peak-limits every single level in a recording, there are no lows, which of course means there are no corresponding highs either.
Despite my newfound truce with the brake pedal, I've hardly mastered the art of cornering. I frequently remain a bit too greedy with the gas and go careening into guard rails or stacked tires or some other creative obstacle that's been constructed to spare the lives of ground-level spectators. Anyone who's ever played a racing game has had that terrible moment where you lose control on the final corner of a 10-minute championship race and watch your first-place finish disappear in a cloud of car exhaust as your competitors go whizzing by on their merry way to the finish line. But the benevolent developers at Turn 10 anticipated these frustrating moments and developed a rewind function that lets you turn back time a few seconds and try again. If you've played Jonathan Blow's acclaimed indie puzzle-platformer Braid, you'll find the device instantly familiar.
Some might consider this rewind function cheating. And they'd have a point. After logging roughly 10 hours in Forza 3, I have yet to experience a second-place finish. When I make that decisive blunder that would've forced me out of contention in a given race, I just rewind and try again. As time lurches in reverse, the smashed bonnet of my Lamborghini Murcielago magically unwrinkles before my eyes and the shiny black, spit-polished exterior returns. Sometimes I have to rewind two or three times before I finally get a section right.
But just because I've never lost a race doesn't mean that the game has become any easier, or that my decision to play in "Hard" difficulty mode needs to be qualified somehow. I still crash with disappointing frequency. I still go flying off the track on particularly gnarly, acute-angled turns. The only difference is that now I don't have to restart the race from the very beginning in order to correct my error. One of the great joys of gaming is being able to refine your abilities in order to play the game at a higher level of skill. I enjoy being challenged and there are plenty of times where I'll crash midway through a race and ignore the rewind button just to see if I have what it takes to battle my way back to the front of the pack. In the case of Forza 3, the challenge remains but the frustration is mitigated. (Also, it's fun to imagine that you're driving the time-traveling DeLorean from Back to the Future.)
When we make mistakes or encounter difficulties in real life, the infinite range of hypothetical scenarios that could've led to a different result only compounds our sense of anguish. Maybe you're driving to the airport to catch your flight, an accident blocks off the interstate and you're forced to wait while they clear the wreckage off the road. As you sit there helpless, gazing at the brake lights of the cars parked in front of you, you watch your chances of catching the flight gradually evaporate. If you'd left a few minutes earlier, you'd have cleared that stretch of road before the wreck occurred. If you'd taken surface roads instead of the interstate. If you'd booked the later flight that you originally had your eye on. If, if, if....
Videogame developers are wising up to the fact that allowing players to rewind time and explore that enticing string of mental "ifs" stimulates creativity in powerful, enjoyable ways. What good is digital escapism if it doesn't let us massage the punishingly stubborn laws of the physical universe?
Jason Killingsworth is Paste's games editor. He is based in Dublin, Ireland, and writes about music, film, tech and games for a variety of outlets. You can reach him online at jason [at] pastemagazine.com.
Others Tagged With