Coen Brothers Cast Damon, Brolin and Bridges for True Grit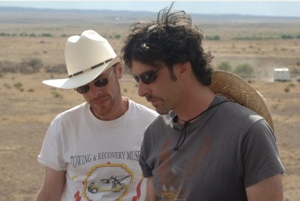 The Coen brothers have gotten acclaim for their violent Westerns (No Country for Old Men) and for their period pieces (O Brother, Where Art Thou?). So the announcement that they are currently casting for a remake of historical Western True Grit seems like a no-brainer.
The original 1969 film featured John Wayne and Glen Campbell as a U.S. Marshal and a Texas Ranger, respectively, hired by a young girl (Kim Darby) to avenge the death of her father. The father's killer was played by Jeff Corey, and also appearing in the film were then-up-and-comers Robert Duvall and Dennis Hopper.
Joel and Ethan Coen's rewrite of the classic film will align more closely with the original source material, a novel by Charles Portis, which focused more on the 14-year-old girl Mattie than on the men in the story. Variety reports that Matt Damon will take on the role of the Ranger originally played by Campbell. Coen alum Jeff Bridges (The Big Lebowski) will play the Marshal, and Josh Brolin (No Country) is in talks to play the killer. No word yet on who will be cast as main character Mattie.
True Grit will be produced by Scott Rudin (co-producer for No Country) and Steven Spielberg. The film is expected for a 2011 release.
The most recent Coen project, A Serious Man, came out this month and has been getting rave reviews.
Got news tips for Paste? Email news@pastemagazine.com.
Others Tagged With