Wu-Tang Clan's RZA Loves Video Games, His Nerdy Kids and Roundhouse Kicks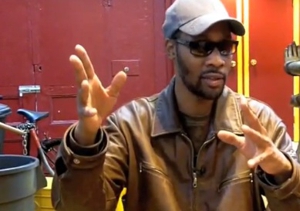 They don't call the RZA "the braintrust" of the Wu-Tang Clan for nothing; the gears in dude's mind simply do not stop. And because of that, plus his obsession with martial arts, East Asian philosophy, comic books and advanced recording technology, it's not unfair to describe him as, yes, a nerd.
In fact, RZA recently came out of the dork closet during an interview with True/Slant. "I'm a geek," he said in a video interview with rock journalist (and fellow nerd) John Sellers, posted below. The RZA geeks out over computer technology, super powers (he'd want to fly) and, most of all, video games. "I've been playing video games since pong," he said. "But the time you're wasting on video games is still time wasted."
Speaking about the obsession he shares with his sons, he told Sellers that he prescribes a maximum of four hours a day spent video gaming, alluding that the little RZAs are geeks just like pop. And that's how he likes it: "I'd rather raise nerds than raise gangsters."
A swell conversation, sure, but the best moment of the interview came at the end when the RZA actually kicks a can off of the six-foot-tall Seller's head. The kung fu, as always, is strong with Wu.
The Rza's new book, The Tao of Wu, which deals both in autobiography and religious philosophy, is out now.
And now for that kick:
Got news tips for Paste? Email news@pastemagazine.com.
Others Tagged With