Tracy Morgan Greeting Cards Help You Live Every Week Like its Shark Week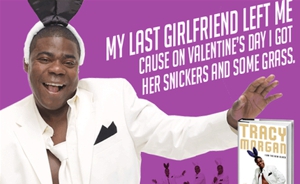 One of the many highlights of 30 Rock is Tracy Morgan. As character Tracy Jordan, he has a way with words, dropping pearls of wisdom on a regular basis. A few gems:
The Black Crusaders are a secret group of powerful Black Americans. They meet four times a year in the skull of the Statue of Liberty. You can read about that on the Interweb.
Live every week like it's Shark Week.
If you get rich off this stuff just take care of my family. I don't want my kids to have to go to college.
Now, in honor of Morgan's upcoming memoir,
I Am the New Black
, you too can bestow Tracy Jordan-esque lines upon your friends and family. The book comes out Oct. 20 and as a promotional move, Morgan and
Random House
are offering a series of e-cards featuring some choice lines of dialogue. Send these heartwarming sentiments and truly show your loved ones that you care.
Related links:
Others Tagged With