Upcoming John Mayer Video Puts Fans in Midst of "Heartbreak Warfare" with Augmented Reality Technology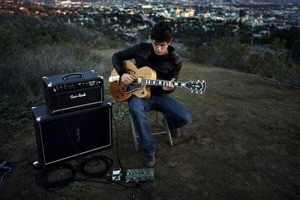 As a musician worth following on Twitter, John Mayer is quite used to interacting with fans on a regular basis. However, a new music video will bring fans closer to the singer-songwriter than ever before.

In his video for "Heartbreak Warfare," the debut single from his upcoming album, Mayer transports from the comfort of his bedroom to an exploding battlefield. Meanwhile, augmented reality technology will send viewers straight to the scene, as Mayer recently demonstrated to
Wired
.
Watch Mayer's behind-the-scenes look of his "Heartbreak Warfare" music video:
With a webcam aimed toward them, viewers can place themselves in the music video by holding up a piece of paper with a printed graphic: in Mayer's case, a broken heart inside a black box. Once the webcam recognizes the graphic, it superimposes the video over where it detects the piece of paper, transforming Mayer's world into a sort of digital dollhouse.
Mayer debuted a part of his music video at this year's Adobe MAX conference Tuesday, to demonstrate how it uses this technology:
Mayer says that he is the first to use augmented reality in a full-length music video, though the technology in itself has become increasingly popular. In July, Blink-182 filmed such a performance
in part of a Doritos promotion
, though viewers had to use a bag of chips instead.
The "Heartbreak Warfare" music video will debut in its entirety online next month. Mayer's new album,
Battle Scenes
, is slated for a Nov. 17 release.

Related links:
News: Daniel Johnston's Art Comes To Life On the iPhone
Salute Your Shorts: The Music Videos of Michel Gondry
Review: John Mayer: Too Green for the Blues
Others Tagged With