Watch Death Cab For Cutie's "Meet Me On the Equinox" Video From Twilight: New Moon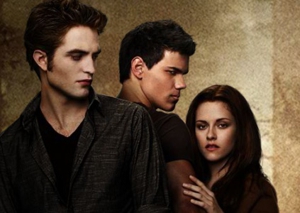 After the flurry of news about the indie-centric soundtrack to New Moon, the second movie in the Twilight series, we should've known it'd only be a matter of time before we saw Ben Gibbard and Robert Pattinson sharing the screen—the small screen, that is. Soundtrack leaders Death Cab For Cutie just released a video for "Meet Me On the Equinox," the band's Narrow Stairs-sounding New Moon single.

The video tells the basic plot of New Moon with shots of Death Cab playing in somebody's living room spliced throughout. Based on the film clips in the video, the plot seems to go like this: Bella (Kristen Stewart) finds this pale guy (Robert Pattinson) in the forest, where he kisses her on the head. Then he disappears like a ghost. Bella thinks he may be in the ocean, so she jumps in, forgetting that she is unable to swim. Still, she finds the pale guy in the ocean. But then he disappears again. Blast! Eventually, Bella runs through a crowd of monks and sees the pale guy walking out of a building where...
SPOILER ALERT!
...he takes his shirt off.
Then Ben Gibbard takes his shirt off.
We may have made up some of that, but you'll have to watch the clip yourself to confirm:
Others Tagged With