Watch The Mountain Goats on Stephen Colbert and Listen to Their New Album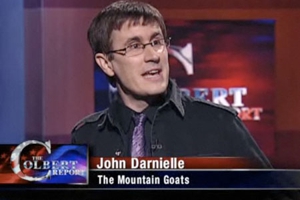 As we trolled the depths of pay-cable channels late last night, what to our bleary and wondering eyes should appear but John Darnielle, frontman of the iconic indie-folk act The Mountain Goats, being interviewed by Stephen Colbert! The always-affable Darnielle had a brief and snappy exchange about his new album, The Life of the World to Come, suicidal mountain goats and his cheery take on lyrical pathos. And after the commercial break, he was joined by his band and performed a stirring rendition of "Psalms 40:2," from the new album.
The Mountain Goats better brace themselves for the
Colbert Bump
, because Stephen loves
The Life of the World to Come
so much that he's streaming it in its entirety on the
Colbert Nation website
, for free-ninety-nine.
Watch Colbert's interview with John Darnielle:
Watch The Mountain Goats perform "Psalms 40:2":
Related links:
Others Tagged With