Watch the Trailer for The Decemberists' Here Come the Waves: The Hazards of Love Visualized (And Maybe Own it in December)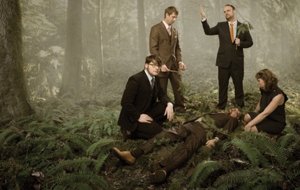 Last month, we told you about The Decemberists' plan to wrap up their fall tour with a very special performance of their most recent opus—a four-part animated film called Here Come the Waves: The Hazards of Love Visualized. Featuring the work of Guilherme Marcondes, Julia Pott, Peter Sluszka and Santa Maria, it's to be debuted and soundtracked live by the band at an upcoming show in Los Angeles. Cool, right? Right. But also kind of a bummer if, say, you weren't already planning to be in the neighborhood of UCLA's Royce Hall on Oct. 19.
However, Colin Meloy and company are nothing if not musically magnanimous folks. As of last night, now you can watch a minute-long trailer for Here Come The Waves (just be warned—multiple viewings may very well cause you to fail any drug tests in your immediate future):
That would totally seem like a cruel tease, we know, if not for that little blip at the end: "Coming December 2009." Hmm, looks like we won't have to book it out to the City of Angels for this after all (phew—love this band, but not that much). Stay tuned: Paste will let you know soon as it's safe to start lodging requests with Santa Claus.
In the meantime, expect The Decemberists Death Count to spike in about one week's time. Victims: Attendees of Here Come the Waves' LA debut. Cause of demise: AWESOMENESS.
Related links:
News: Decemberists to End Hazards of Love Tour with Animated Performance
Features: Psycho Killers: The Decemberists Death Count
Cover Story: The Decemberists: Dorks of Hazard
Got a news tip for Paste? E-mail news@pastemagazine.com.
Others Tagged With