Allison Moorer Announces New Album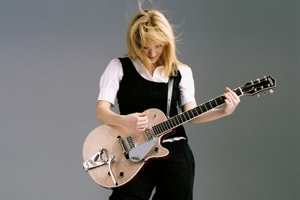 Following 2008's Mockingbird, Allison Moorer is set to let her seventh studio effort, Crows, take flight.
Such birds, which often migrate to her Woodstock, N.Y. yard, used to make Moorer feel uneasy. However, once the Horse Whisperer singer heard that crows are considered the messengers from the other side, she began to see those black birds differently. "I would start to consider them as friendlies, and that they were actually bringing me a message of comfort," she told Billboard.
Produced by R.S. Field (Buddy Guy, John Mayall) in Nashville, Crows is also her first release through Ryko, home to Brian Eno and Junior Senior. The album is slated for a Feb. 9 release.
Tracklist:
1. Abalone Sky
2. Goodbye To The Ground
3. Just Another Fool
4. The Broken Girl
5. Should I Be Concerned
6. When You Wake Up Feeling Bad
7. Easy In The Summertime
8. The Stars and I (Mama's Song)
9. Still This Side Of Gone
10. Like The Rain
11. Sorrow (Don't Come Around)
12. It's Gonna Feel Good
13. Crows
Got news tips for Paste? Email news@pastemagazine.com.
Others Tagged With