Beach House Talks New Album, Teen Dream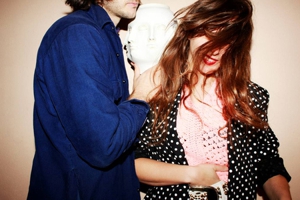 When Victoria Legrand and Alex Scally sought to create their third Beach House album and Sub Pop debut, they faced great expectations. Hardly a sophomore slump, 2007's Devotion earned a slew of critical praise for entrancing listeners to a slumber of sliding guitars, organ melodies and Legrand's resonating alto.
So to create Teen Dream, slated for an early 2010 release, the former Paste Band of the Week waited until they finished touring with Grizzly Bear, then wrote the album's 10 songs in their Baltimore practice space. They recorded and produced the record with engineer Chris Coady (TV on the Radio, Yeah Yeah Yeahs) in a church-turned-studio in upstate New York, home also to Legrand's alma mater Vassar College.
"When we did Devotion, we did it because we really felt the need to keep making it, even though we were touring," Scally tells Paste. "Teen Dream was much more like a plunge into isolation, much more of shutting things out and working long hours and really obsessing on things."
Their obsession became nostalgic, as Legrand herself recalled feelings of "being lovelorn or lost or like Bob Dylan." Still, as they returned to familiar places, they escaped another one commonly associated with the duo. "We've gone out of the bedroom, and there's more of a wildness emerging," Legrand says.
Since critics were quick to call Devotion an album of lullabies, the duo refuse to deem Teen Dream appropriate for a particular time of day. And when they approached Broken Social Scene's Kevin Drew, director Matt Amato and their favorite Baltimore artists to create videos of the Teen Dream tracks for the album's accompanying DVD, they refused to interfere. "I don't want to say that it'll be a nighttime record," Legrand says. "I mean, if any of these people are having sex, that's cool. We'll just leave it at that. More of a feeling."
Still, the album's latest single, "Used to Be," is a big hint of what to expect, with its introductory pulses registering like the mind's first conscious thoughts after a long night of slumber, the bell chimes like sunlight that seeps beneath the eyelids. Though it momentarily slips into the duo's trademark haze of guitar reverb, in the end LeGrand's voice rings clearly over the atmosphere, turning "Used To Be" a conscious, welcome awakening.
Watch the music video for Beach House's "Used to Be":
Tracklist:
1. Zebra
2. Silver Soul
3. Norway
4. Matter of Time
5. Used to Be
6. Lover of Mine
7. Been Around Before
8. So Long
9. We Belong
10. Take Care
Got news tips for Paste? Email news@pastemagazine.com.
Others Tagged With