Ben Gibbard, David Bazan, Fleet Foxes, Many More Contribute to Seattle Charity Comp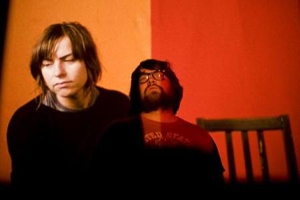 Seattle, once the breeding ground for grunge, is now birthing some of today's most well-regarded names in music, period. Celebrating these, plus the creation of new ones, is a new compilation featuring some city favorites.
Created by local coffee roaster Caffe Vita, GIVE Seattle features 10 videos and more than 30 tracks from such musicians, including Fleet Foxes, Le Loup and Best of What's Next artist Mt. St. Helens Vietnam Band. Those purchasing the album will also receive six tracks later through e-mail, from Ben Gibbard, The Dutchess and the Duke, Throw Me the Statue, The Long Winters, Unnatural Helpers and David Bazan.
All album proceeds go to neighborhood food banks and Arts Corps, Seattle's largest arts education organization. To purchase the compilation, out now for $7, visit GiveSeattle.org or visit one of 13 Seattle locations.
Tracklist (not in order), as provided by TwentyFourBit:
Arthur and Yu – "Magic Mountain"
Cave Singers – "Growing Paln"
Champagne Champagne (feat. Fences) – "Victim of the Modern Age"
Common Market – "The Picture of My DeLorean Gray"
D. Black – "On the Go"
Fatal Lucciauno – "Gangsta"
Fences – "Sadie"
Fleet Foxes – "Mykonos"
Fresh Espresso – "Gettin' Money"
Gabriel Mintz – "Safeway"
Grand Archives – "Director's Cut"
Head Like A Kite (feat. Tilson) – "Growing Pain"
Hey Marseilles – "From a Terrace"
J. Tillman – "Earthly Bodies"
Joshua Morrison – "Mammoth Cave"
Kinski – "Whatever Happened To Madeleine Stowe"
Le Loup – "Forgive Me"
Mad Rad – "Love in a Strange World"
Moondoggies – "Side of the Road"
Mt. St. Helens Vietnam Band – "Bitter Cold"
Pearly Gate Music – "Big Escape"
Pica Beats – "Durian Shakes"
Sera Cahoone – "Love's Gonna Live Here"
Talbot Tagora – "Ichthus Hop"
Tea Cozies – "Corner Store Girls"
The Blakes – "Parking Lot"
The Lonely Forest – "I Don't Wanna Live There"
The Maldives – "In The End"
The Saturday Knights – "Go!"
Visqueen – "Hand Me Down"
Got news tips for Paste? Email news@pastemagazine.com.