Ben Stiller, Noah Baumbach and LCD Soundsystem Join Forces for Greenberg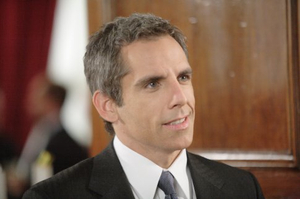 Writer-director Noah Baumbach has mastered the art of "emotional torture porn," a phrase aptly applied to his past films by bloggers/NPR radio hosts Adam Kempenaar and Matty Robinson. This is an extreme way of saying that Baumbach creates insidiously cruel, manipulative characters who enter seemingly mundane emotional situations and proceed to torture those around them, all while wearing disturbingly complacent smiles.
This kind of socially-accepted cruelty abounds in Baumbach films. Jeff Daniels and Laura Linney skillfully manipulate their vulnerable children as they file for divorce in The Squid and the Whale (2005). Nicole Kidman punishes her son and abuses her sister for her conjugal unhappiness in Margot at the Wedding (2007).
Still, perhaps Baumbach is learning to, well, lighten up. His upcoming film, Greenberg, features Ben Stiller's soul-searching but hopeful character and music from LCD Soundsystem. (Baumbach even features LCD's James Murphy in the background of the trailer, see him walking to the left of the tree in sunglasses in the frame below. Thanks to The Playlist for the tip!)
The stellar trailer even hints that this new film will be a slyly happy story about Stiller's redemption and self-improvement as a forty-something man trying to find his way in life. Check out the trailer for Greenberg below. The film is due to hit theaters on March 12, 2010:
Got news tips for Paste? Email news@pastemagazine.com.
Others Tagged With