Best of What's Next: Harper Simon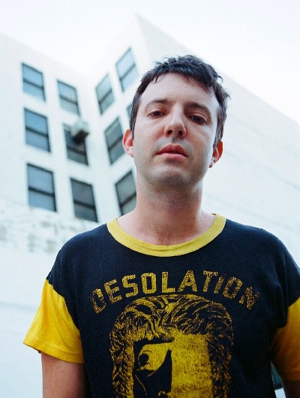 Harper Simon can't help being caught in the great melodious wake of his father, the man who penned "The Only Living Boy in New York" and "Mrs. Robinson." But to consider him simply the lucky offspring of a lyrical genius isn't only unfair—it's also inaccurate. Simon's three-years-in-the-works self-titled debut (out now) counts as the first steps into the musical spotlight as a solo artist. They weren't necessarily taken alone, but every awkward footfall along his gradual jaunt was well-earned. In October, just before his album's release, Paste spoke with Simon the phone from his L.A. home, where he recounted the collective effort of the new record, which features collaborations with producer Bob Johnston, Nigerian poet and novelist Ben Okri, and songwriters including Inara George, Sean Lennon and, yes, even dear old dad.
Paste: You went to Berklee Music College in Boston. What kind of student were you there?
Harper Simon: I went to Berklee for a couple of years but I was a very unremarkable student. I basically just learned everything from hanging around the drug culture, like every other teenage fuck-up. I really didn't learn that much in school. I always read a lot on my own and I listened a lot on my own. I did pick up some basic harmony and arrangements. I picked up basic theory at Berklee.
Paste: With such strong early musical influence, has this solo album been something you've been considering for a while?
Simon: Yes, of course I have. But I've always had so much anxiety about it. Maybe just coming from the family I came from—maybe it was just hard for me to find my voice. I always had a lot of reluctance to put myself out there in the world. But eventually it was something that I felt strongly about, and I realized that it was time to do it, and to do it in a serious way. And I just wanted to make sure that if I put out a record in the world that it would be an incredible, thoughtful, interesting album with lyrics that were not bullshit, and players who were brilliant. And it ended up being a much larger endeavor than I had anticipated.
Paste: You had a lot of famous and talented hands contributing to this record. Did it snowball into this collaboration or was it your initial intention?
Simon: I might have gotten carried away. (Laughs) I don't know if my next record will have so many special guests. Did it snowball? Maybe a little bit. I started the record co-producing and tracking down Bob Johnston in Nashville. We brought in all those great session players whose names I knew from some of my favorite records from the '60s, like Blonde on Blonde and Sweetheart of the Rodeo. So that was incredible. My concept was always to take those players and then mix them in with people from my generation who were my friends, and talents from my generation. So then people like Inara George, Petra Haden, Adam Green, Sean Lennon and all sorts of people got involved. Steve Nieve of Elvis Costello and The Attractions, Mark Rebo, Eric Earley from Blitzen Trapper.
Paste: What was it like getting to meet and work with people you'd only known through liner notes?
Simon: It was a totally satisfying experience. It was a beautiful experience because those guys are very dear people. They were so sweet to me and unpretentious and supportive in every way. They were a pleasure to work with. It was an honor for me because I'm a real music geek, so to meet with these guys and play with them was a thrill. It was an incomparable thrill.
Paste: You claimed to have a good bit of anxiety when making this record. Do you believe at this point that you've conquered these fears that kept you for so long from this endeavor?
Simon: I don't know if I've conquered them, but I definitely made some progress with them. I feel good about being out in the world, and I feel proud about all the players that I got to work with. I feel like I can stand behind my lyrics. I had to work through a lot of issues. It's an ongoing fight but now I'm out there in the world. I'm in the game now.
Paste: Did you bring your own production experience to the table when you began this album?
Simon: I had worked on a couple other records before—I had been involved in other peoples' records and I had produced and co-produced a couple other records, one that came out and one that didn't. I had some production experience but this was really where I learned so much about not just being a producer, but being a lyric writer and singing and how to carry a record. I had to learn about so many different things to get my skill set up. I had to really kick everything up several notches in order to be able to carry this off.
Paste: In your attempt to be more earnest in your songwriting, is there a song in particular from your new record that you feel most honest and open about?
Simon: I think the whole album is very honest and open. A lot of the lyrics on the record are written by other people, maybe half of the lyrics. I co-wrote the songs with different people—I co-wrote with a novelist and a poet, Ben Okri. I co-wrote one with Adam Green and I co-wrote one with Inara George. But I think the song that I'm happiest to sing is the last song I wrote for the album, which is called "Berkeley Girl."
Paste: This wasn't inspired from your days at Berklee School of Music, was it?
Simon: Oh, it's not about Berklee School of Music. It's about Berkeley, Calif.
Paste: What about this song is most special to you?
Simon: Well, it's a love song to a friend. It's a song for someone who is very dear to me. And that's all. It's very simple, really. It's just a song written for someone very dear to me and I just wrote it to make her happy. I actually think it's a good song. (Laughs)
Paste: Another song that was intriguing was "There Are More Wishes Than Stars." Could you talk about the unique chime that comes from the song?
Simon: Yeah, that comes from an instrument called the celeste. I wrote that with Ben Okri—it comes from a poem of his that I adapted. I rewrote it for some lines of mine.
Paste: Was this poem something that spoke to you in a particular way?
Simon: Well, it was a poem that he sent me. We had just been talking about me writing a song and adapting some of his material. He's my friend, but also I noticed that his poetry had a very lyrical quality that you don't often find in modern poetry, and I thought it would translate well to song. That was the first poem he sent me. Later we worked on another one that ended up being called "Back In My Arms," which is not on the record but it's going to be a bonus track on iTunes. It's funny because I didn't know that "More Wishes Than Stars" is the one that is most popular on iTunes. What the poem was about really resonated with me. I wouldn't have felt comfortable singing it if it didn't.
Paste: You seem to hold a strong attachment to the LP as an art form that is threatened by today's developing technology and music industry. Can you talk about that?
Simon: When I made this album, I started working with Bob Johnston and those other players. To me Bob produced some of the greatest records of the '60s, whether it be Blonde on Blonde or Highway 61 Revisited or Leonard Cohen's Songs from a Room or Simon & Garfunkel. Those were albums that I grew up with and still revere. That was from a time when the long playing album was coming into its own as an art form. To me it really became the great art form of the second half of the 20th century, because film comes from before then. To me the long-playing album is a very important artistic medium and it is the one that I chose to work in, and it is the one that I love the most. I think it is threatened. Apparently it is. Not to me, because I'm still interested in buying records and making records. I do believe that it will survive, but it certainly is changing. I don't hear that many people talking about the loss of the LP.
Paste: It seems like we rely heavily on the standard and structure of the LP.
Simon: Well, when you take an album and you chop it up into 10 songs and you put those 10 songs up on iTunes, it's no longer an album. It's just 10 songs separated into segments. When I make an album I'm thinking about the presentation and arc of the album, one song going into another, the sequencing and making sure all songs are as good as all. I don't want to make two songs that are really good and then the rest just be fillers. I want to make a great album, and one that flows and has an arc. I want to say things within this 40-minute structure. So when you just throw it up on the computer and chop it up into segments, to me it's like chopping up a feature film into a dozen 10-minute YouTube clips. It doesn't seem to bother very many people. Anyway, I'm a big fan of the album, and with my album I was very conscious of making an old fashioned long playing album.
Others Tagged With