Catching Up With... Annie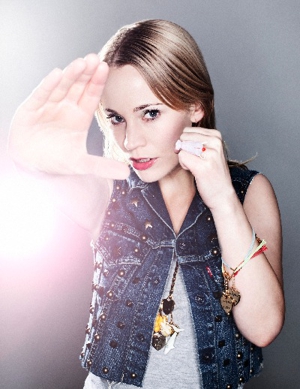 Pop may be widely known as a genre of instant gratification, but not to Anne Lilia Berge Strand. After the release of her infectious epiphany of a debut Anniemal in 2004, the electro-pop singer-songwriter—who performs as Annie—was forced to ditch her old record label and wait four years to release her latest collection of confectionery dance gems, Don't Stop (out Dec. 1 in the US). But like the title of her forthcoming LP, Annie hasn't yet slowed down. Paste caught up with the native Norwegian during a recent New York DJ layover to chat about her new record label, working with Franz Ferdinand's Alex Kapranos and how crappy music videos can be great inspiration.
Paste: There have been four years between Anniemal and Don't Stop. What have you been up to during that time?
Anne Lilia Berge Strand: Well, first of all we did a lot of touring, especially in the U.S. We did about six tours. Some we did mostly around New York, and we went to South America and Australia—we spent a lot of time there. And then I released another DJ Kicks, which took a while. And I also did some DJing around Europe and I also went back to Australia to DJ again. And then I started making the new album.
Paste: So you left Island Records to release the new album. How did that come about?
Strand: What happened was I made a new demo of some my new tracks and I met up with Nick Gatfield, who was the boss of Island at that point, and he really, really liked the songs. So he said he really wanted to work for me and signed me, and then three to four months after he left Island. So there was another guy who started and he really didn't get the project at all, and it was difficult to communicate with him. He started changing his mind every second day. He would say, "Oh, I really like that you're an artist with such integrity and you know what you want." But when I really stressed how I wanted it to be, he wasn't up for it at all. So it was like working against a wall, basically—tiring and difficult. And now, of course, they kept on delaying the album. So that was very frustrating.
Paste: I'm guessing that Smalltown Supersound is a much more hospitable home for you now?
Strand: Definitely. I knew [Smalltown Supersound head] Joakim Haugland from before, and he'd heard the album and really wanted to release it. It's great to work with someone who sees the music industry the same way that I do. It's much easier to work with one person instead of ten who all have different opinions and different thoughts about music. And then I'm also doing my own label, so we share everything 50/50. My label's called Totally Records.
Paste: Are you going to have any other artists come out on Totally Records?
Strand: I'm not sure yet. I might. Before I released this album, I only did 12-inches with a guy called Flying Lizards and then I did this weird Spanish song called "Circus World." So (Don't Stop) is the first full-length album on Totally. So I might do some more. I don't know. I'll have to see what happens.
Paste: I'm certainly not going to pretend to know you, but I interviewed you four years ago and you were extremely nice, and you're extremely nice right now. So I'm a bit confused when I hear songs like "I Don't Like Your Band" and "My Love Is Better," as you seem like an extremely sweet person.
Strand: Yeah, I seem like that. (Laughs)
Paste: Not so much?
Strand: Nooo. It's no use to be horrible to people. You have to be nice. But at the same time, I have opinions. "I Don't Like Your Band" was based on me sitting in somebody's bedroom watching TV, and I think I saw MTV maybe, and it was just shit music videos coming one after one after one. I didn't really know what to write about and I was going into the studio with Paul Epworth, then I saw all of these videos and I was like "Shit, this is so annoying." You always have to write what you feel the most. And at that moment I felt that I didn't like any of those bands.
Paste: Was there one specific band in mind that brought out your ire?
Strand: No, there wasn't one specific band. It was more that I thought it was so much boring bands. And I thought that maybe I should write a song about that.
Paste: MTV used to be a lot more interesting.
Strand: To me, it was really inspiring to watch MTV and I remember I didn't have it—my family didn't have that many TV channels, and I went to my friend's and I was like "Wow!" Just sitting and watching, sometimes even recording these videos so I can watch them all over again. And I was really excited, but now it's just so boring.
Paste: There are lots of reality TV shows, too.
Strand: No. It's even more boring. That should be my next song. (Laughs)
Paste: So you mentioned Paul Epworth, and you've worked with some great producers including Royksopp, Xenomania and Richard X. What do you look for and how do you pick a production team?
Strand: Most of the time I write the songs before I meet up with the producers, and when I make the song I try to have an imaginary world and you have to work with someone who understands this vision you have. So for example, when I was inspired to do "The Breakfast Song" that I did with Timo [Kaukolampi], I could really hear the drums—Timo was the only one who I think could do that. And the same thing with "I Don't Like Your Band." I don't think that would suit the production of Timo. You have to find someone who can understand your vision and the sound you want. That's so important.
Paste: Is there a team that you worked especially well with that you'll probably carry into the future?
Strand: I don't know. I like to develop and there are so many great producers and I've been very lucky that a lot of them have been very interested in working with me as well. But of course it was really cool to work with somebody like Paul [Epworth]. And also Xenomania challenged me so much on the songwriting. That was cool, because I'm used to carrying on with my songwriting and they sit there and filter one drum, and I come back and come up with some new ideas. Well, Xenomania—I talked with them about the songwriting and they said maybe I should write a bit differently. It was great just to have somebody who started off the same way as I do, to think about melody and the actual song before production.
Paste: How did you hook up with Alex Kapranos to play guitar on the album?
Strand: It's funny. I met him in Tokyo when I was at an M.I.A. gig. It's funny because I made this song called "I Can't Let Go," which was a duet, and I sort of suggested that maybe he could be interested in working with the song with me. He said he'd heard "Heartbeat" and he'd really liked that, and he'd listened to the album and became very interested. Then a couple of months later I heard that he was going to work with Xenomania as well, so that was quite funny. He asked if he could listen to the [new] album and I played him a couple of songs and he said he would rather do something on "Local" or "My Love Is Better." So he played on those two.
Paste: Speaking of Xenomania, I'd read that Brian Higgins asked you to create 400 new songs for the album.
Strand: I don't know if it was exactly 400, but it was between 300 and 400 songs.
Paste: Is there any chance that we'll see that reservoir spill into a future album, an Annie super-release?
Strand: It might be, but I don't really think so. Maybe. I was at Xenomania's place a bit over a month ago and we listened to some of the stuff. Some of it sounds really good still and one of the songs has actually ended up on another record of a girl band called Mini Viva, a song called "I Left My Heart In Tokyo" that just came out two months ago. So they're doing really well with this one and that's quite cool.
Paste: How did you initially get into DJing?
Strand: I'm not sure exactly when it was, it was a couple of years ago. I was offered a gig in this small place in Bergen called Café Opera and I've been collecting records for years, so there was this guy who asked if I maybe wanted to do a gig there. I never really thought about playing records out to other people, but I tried it out and it probably sounded horrible, but people really enjoyed it. So I did this one particular gig at Café Opera and a week after I was offered a club evening at another venue in Bergen. So I started something called Pop Till You Drop together with a friend of mine. It was an evening once a month. We were booking different artists and it was really fun.
Paste: Do you still host this at all?
Strand: No. I don't really have time to. I was talking about maybe starting something, because now I live in Berlin these days. So I was thinking of maybe starting something there, but I'm traveling so much, and that's the problem.
Paste: So what's the status on doing a live tour with your band?
Strand: March or April. I don't know where I'm starting, whether it's the US or Europe.
Paste: Do you prefer one type of performance over the other as far as DJing and playing live go?
Strand: I love to [play live], but DJing for me is more like fun. It's more like a hobby. I'm very strict on myself when I do music and when I play live it's almost like a struggle because I want to do my best. I'm very much a perfectionist and it's not so relaxing. (Laughs) With DJing, I'm just having fun and really enjoying it. If I had to do only one thing, it would be playing live. With DJing, I buy records all the time and I love to play out for people, and I prefer playing myself than going somewhere where I don't like the music.
Paste: How difficult is it to translate your music to live performance?
Strand: Well, it can be pretty difficult because my music is always done in the studio when it comes to the songwriting. So it's not like playing in the studio and playing out are exactly the same. We've played a couple of gigs now. We opened for Saint Etienne in London and then for a couple weeks, and that was great.
Paste: You touched on how you wrote a track for Mini Viva. Are you writing for anybody else at all?
Strand: Yes.
Paste: Can you say?
Strand: No. I'll tell in a couple of months.
Paste: Any other future plans that you can talk about?
Strand: At the moment I'm promoting this record, and I've already started writing some new stuff. So it's not going to take four years till next time. (Laughs)
Others Tagged With