Diplo Drops Hints About New M.I.A. Album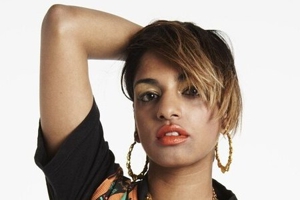 If Diplo gets his way with the next M.I.A. album, then listeners can expect "Booty Shorts" paired with "Summertime Clothes," "The Purple Bottle" leading to getting "Wasted" and "Dope Boys" frolicking with "My Girls."
"Been in the studio with M.I.A. working on her new record," the deejay and producer told Pedestrian.tv. "It's like Gucci Mane meets Animal Collective."
If the combination sounds strange, remember that the Sri Lankan-raised musician is hardly a stranger to diverse outsourcing. Diplo himself has overseen this in both of her previous albums, with 2007's Kala sampling The Pixies' "Where Is My Mind?" and gunshots singing the chorus in breakout hit "Paper Planes."
Remember also that this album almost did not happen. After she declared her 2008 Bonnaroo performance to be her last, M.I.A. officially retired in September 2008, saying that she did not want to make music again.
Whether the description fits remains to be seen, but in the meantime, we'll look forward to a contender for Paste's Best Albums of the Next Decade.
Got news tips for Paste? Email news@pastemagazine.com.
Others Tagged With