David Fincher Reunites With Seven Crew for '70s Reboot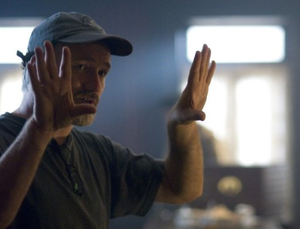 David Fincher, he of Fight Club, The Curious Case of Benjamin Button and Zodiac fame, will reteam with his Seven collaborators to remake a 1970s thriller.
The film is The Reincarnation of Peter Proud, and it was based on a novel of the same name by Max Ehrlich, who also adapted the 1975 screenplay. Fincher will produce and direct the supernatural thriller with Seven writer Andrew Kevin Walker and producers Alison Rosenzweig and Michael De Luca. Walker recently penned the upcoming Benicio del Toro/Emily Blunt vehicle, Wolfman, which already has garnered negative press and pessimistic predictions at the box office.
The original version of The Reincarnation of Peter Proud centered on a man who has flashbacks and visions. When he investigates them further, they lead him to a mysterious woman and her daughter, and he begins a love affair with the latter. It soon becomes clear that his visions were actually from his previous life, in which he knew the woman and was father to the daughter with whom he's having the affair. The film got lackluster reviews when it came out, and its subplot about incest triggered a fair amount of controversy. It was directed by J. Lee Thompson, who made 1962's Cape Fear, and it featured 1970s-era luminaries Michael Sarrazin (They Shoot Horses, Don't They?), Margot Kidder (Superman) and Jennifer O'Neill (Summer of '42).
Fincher intends to contemporize Proud, adhering as closely to the source material of Max Ehrlich's novel as possible. The new film is being backed by Columbia, for whom Fincher is also currently filming The Social Network about the founders of Facebook. The Social Network was written by Aaron Sorkin, co-produced by Proud's Michael De Luca, stars Jesse Eisenberg and Justin Timberlake, and is scheduled for release next year.
Got news tips for Paste? Email news@pastemagazine.com.