Sam Fogarino Talks New Interpol Album, Courtney Love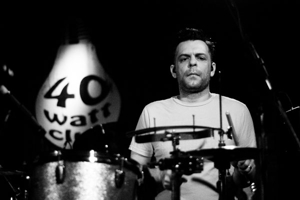 [Photos taken by Mike White at the 40 Watt]
If you noticed a bit of a drop off with Interpol's last album, 2007's Our Love to Admire, you weren't alone. Says drummer Sam Fogarino, "[The album] was not our most cohesive moment… It was when reality kicked in as to where we were and where we were never going back to."
Although the band has kept relatively quiet in the ensuing years, its members working chiefly on other projects, Interpol spent the spring recording its still-untitled fourth album in Manhattan's famed Electric Lady studios. It will be released on Capitol Records in early 2010. "The new record falls back towards the first," Fogarino says over dinner in his now-home city of Athens, Ga. "In trying to move forward, there was an unspoken realization that you can't let go of your sonic-defining tag. There was an effort in Daniel [Kessler]'s guitar tone; he rediscovered it playing in his loft space for a year without anybody. The quality of that tone, played in a big room, is just beautiful. It creates an atmosphere."
If Our Love to Admire was Interpol struggling to find its original inspiration amidst a new major-label deal and increased recognition from the mainstream, the band's next record could be Interpol accepting that there's no going home again. "Its such an intense collaboration; four alpha dogs in one room is a lot to deal with," Fogarino says. "You'll begrudge it, but you know that each person's opinion is another form of quality control. And when we all agree, it's ready for someone to hear."
That someone won't be your every day Interpol fan. Not for at least a few more months, anyway. One unexpected visitor is already familiar with the band's latest, though, and that's Courtney Love, who crashed Electric Lady when Fogarino was laying drum tracks.
"You hear so many bad and good things [about Love], it sets your counter back to zero," Fogarino laughs. "But she was a fucking blast. She'd been working with our assistant engineer before we moved in, and she ran into the control room; all I recall was her rambling about someone, saying 'And he was a fucking shrimp farmer!' Then she said sorry and walked out. Our engineer said sorry, but I said 'Are you kidding? That was Courtney Love, yelling about a shrimp farmer! Like some weird Coen brothers shit. I should pay you for this.'"
Lighthearted anecdotes aside, Fogarino ensures that, if anything, the upcoming album will recapture that shadowy isolation of the band's earlier work. "That big wash of reverb? It's back," he says. "It's there. I personally brought two reverb tanks to the studio that our engineer fell in love with."
So, will the album be a retreat to Bright Lights? A bold leap into new sonic territory? Fogarino is keeping his options open. "The whole point is that there shouldn't be any bounds, but you've got to know your context," he says. "If you throw in the kitchen sink, then there's no identity. Who are you?"
Got news tips for Paste? Email news@pastemagazine.com.
Others Tagged With