Joss Whedon Animates Season Eight of Buffy the Vampire Slayer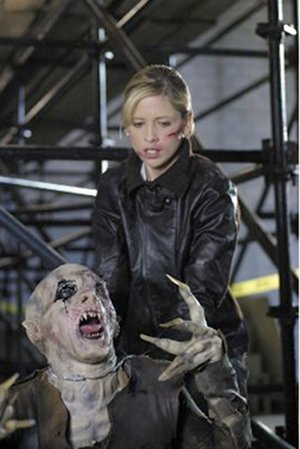 Joss Whedon's recent projects have had mixed results. Last year's stellar Dr. Horrible won an Emmy, but news arrived last week that Whedon's cult favorite, the beleaguered Dollhouse, will be cancelled, airing its final episodes this January. (For a tongue-in-cheek suggestion as to why Fox cancelled the series, check out this video from College Humor.)
Still, Whedon is not stopping to lick his wounds. As previously reported, he is set to direct an episode of Fox's Glee in the second half of its season. And now news comes that he is casting voice actors for Season Eight of Buffy the Vampire Slayer, which he will make into animated webisodes based around the comics.
Dr. Horrible fans may be disappointed about the news. Whedon cryptically stated that he was working on "internet ventures" after Dollhouse was cancelled, leading to speculation that he would create more episodes of the popular web-only series.
However, salivating Buffy fans will be ecstatic. Four years after Fox cancelled Buffy in 2003, Dark Horse Comics produced a comic-book series that picked up where the seventh and final season left off. The comics have been so popular that Whedon recently announced that what was originally conceived to be just a 40-issue "season" would be continued into Season Nine.
Now, Whedon is conducting a casting call through SciFi Wire, a website from cable network SyFy, to fill the roles of the various characters in the animated series. Some are from the TV's regular run and others are exclusive to the comics.
Got news tips for Paste? Email news@pastemagazine.com.
Others Tagged With