Judd Apatow Hints at Pineapple Express Sequel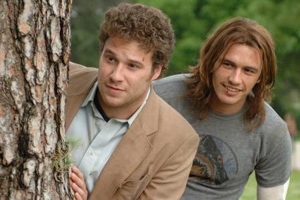 The man who brought M.I.A. to the masses with the awesome trailer usage of "Paper Planes" is now considering a sequel to his stoner bromance flick.
"There's a little talk about a Pineapple Express sequel if that's your cup of tea…your bowl of smoke," Judd Apatow said during his guest appearance in the Funny or Die Writers Room. Created by Apatow and Seth Rogen, Pineapple Express starred Rogen as a process server and reverted James Franco, as Rogen's dealer, to the slightly delinquent tendencies he first displayed as Apatow's Freak (and sometimes Geek), Daniel Desario.
Unfortunately, Apatow also reconfirmed in his Q&A that Rogen and screenwriter Evan Goldberg will not make a sequel to Superbad, or even the Pineapple Express crossover that Franco once speculated. "I begged, but they don't want to ruin it. They think it's a gem of a movie and they don't want a crappy second," Apatow said.
Got news tips for Paste? Email news@pastemagazine.com.
Others Tagged With