"Shit My Dad Says" Creator Justin Halpern Talks Book Deal, TV Show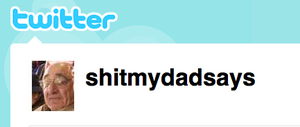 In the wake of news that Twitter phenom @shitmydadsays is being picked up for a CBS TV deal, writer and founder Justin Halpern's pet project continues to grow. At the time of this writing, 763,000 people are following his feed, up from 750,000 yesterday, and the numbers just keep climbing.
The 29-year-old Halpern had always kept a record of the outrageous comments his outspoken father, Sam Halpern, said to him when he was growing up, but when a bad job market forced him to move home this past summer to live with his parents, he started making daily notes of what his dad said. First they were on his work computer at his old job, and when that data was lost, he needed a safe place to store the conversational gems. So he started a Twitter account on Aug. 3, followed at the time by five of his friends.
Suddenly, other Twitter feeds started mentioning him and his number of followers were growing exponentially. In the midst of the sudden attention, Harper Collins signed him for a book deal. For the publisher, he'll write a collection of about 20 stories and a series of his dad's quotes.
Then, film producers started knocking on his door, wanting him and long-time writing partner Patrick Schumacker to turn the Tweets into a heartfelt family comedy. Halpern had his doubts. "It might have been a good movie but I just don't think we were the dudes to write it," he tells Paste. "That wasn't the movie that I wanted to do."
Finally, TV came calling; Warner Brothers bought the rights and Halpern and Schumacker shopped the concept around to the networks. CBS bought it and planned to produce it as a half-hour, multicamera family show a bit like Archie Bunker and All in the Family. But Halpern didn't want to "bastardize one of my favorite shows in the world," so he had to do something different. Plus, his dad is not Archie Bunker. He's a well-read, intelligent man who's retired from a job in nuclear medicine. So Halpern was going to need another angle.
Reading the comments on his Twitter feed, Halpern realized that there were a lot of other people in the same position as him, moving back home because of the economy. His friends who lived at home were all proactive, ambitious people, but there were simply no jobs for them out there. Halpern says the show shouldn't be about a "loud dad who yells at a stupid son… This kid is proactively losing. He's trying to get out there, he's got drive and he wants to succeed but times are tough." And the dad has retired and exited the economy so he can just "sit up and call bullshit on whatever he wants."
This story of a son's struggles and an ornery father seems like a dramatic premise, but there will be no heartfelt laugh-track comedies in Halpern's future. "The one thing we always said in the pitches was that there's never been a syrupy moment in my life with my dad," he says. "I don't want to write that into the show. He's just not that guy."
Although Halpern reads his dad the stories for the book before he sends them to his editor, Sam will never give an interview and doesn't seem to care about the attention. "He's so curmudgeonly that he's impenetrable almost," Justin says. "He's the type of guy, if people were harassing him, he'd just come outside with his shotgun." He pauses. "Which is not loaded, but you never know."
Right now, Halpern is working on the book for Harper Collins and developing the pilot to sell to CBS. He knows that if they don't like what he writes, and if the book doesn't sell, all this success will go away as quickly as it came, but he also feels incredibly lucky, knowing how many aspiring writers there are out there.
"I'm the luckiest motherfucker in the world," Halpern says. "I often think if it wasn't me in this situation, I would probably hate me. 'What, they gave this asshole a TV show from 70 tweets?' The best I can hope for is to write a really good show so people don't feel this opportunity was wasted on some dipshit."
Justin's dad has his own typically colorful way of saying the same thing.
Got news tips for Paste? Email news@pastemagazine.com.
Others Tagged With