N.A.S.A. Offers $1,000 and Spot On Album to Best Fan Remix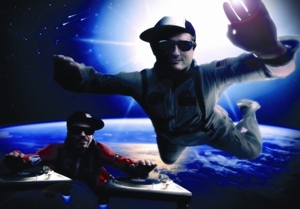 N.A.S.A., the dual hemisphere duo of Squeak E. Clean and DJ Zegon, has faith in its fans. So much so that the guys are willing to include a fan-made remix of one of their already-gigantic bangers on an upcoming remix album. Plus, they'll kick said fan a cool $1,000 because they're just that nice.
Now if N.A.S.A. was just another rock band looking to pick up some cred by turning its tunes into club hits, we'd probably read that will.i.am or Pharell signed on, feign surprise and excitement and move on with our day undeterred. Thing is, N.A.S.A. is no rock band, and there will be no will.i.am on the premises. The duo's first album, The Spirit of Apollo, was a set of speaker-destroying beats mixed with verses and choruses contributed by a record label-worth of big hip-hop and pop music names as varied as they were fantastic. "Strange Enough," a tune that lives up to its name, featured Karen O, Fatlip and Ol' Dirty Bastard.

Tons of guest appearances on tracks varied in style, and the whole thing was insanely danceable. Sounds like a remix album, and in a way, that's what Apollo was—a remix album of a dance record that never existed. And the N.A.S.A. guys are betting their fans can take the quest for the perfect club track even further.

The remix contest is being held exclusively through Indaba Music, a website that acts as a drop off point for musicians to upload and collaborate on tracks all online. Aspiring remixers can download each a capella sample and each beat found on the original album to mix 'em up and create something new. Considering Apollo's guests included David Byrne, Chuck D, Method Man, Cool Keith, Kanye West, RZA, The Cool Kids, Ghostface Killah, Spank Rock, George Clinton, Santigold, Lykke Li and total left field picks John Frusciante and Tom Waits, along with N.A.S.A.'s collection of supermassive beats filtered through Brazilian DJ Zegon's exotic lense, you've got yourself an endless pit of possibilities.

While remixers can't include new, unliscenced samples, they can toss in original compositions. Meaning, theoretically, you could take Tom Wait's already-spooky verse from "Spacious Thoughts" and set it on top of, say, some carnival music. Or you could loop David Byrne's vocals over a Kanye verse to see who's a better talking head. Have fun!

Got news tips for Paste? Email news@pastemagazine.com.
Others Tagged With