She & Him Talk Volume Two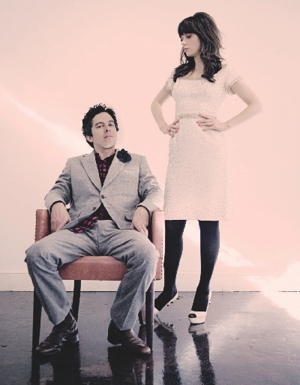 For those folks who didn't think Paste was totally daft for naming She & Him's Volume One the best album of 2008, we've got good news for you: Volume Two is on the way. (For those of you who still consider us spineless drivel-mongers for the same, well, carry on with your Monday.)
The new album was recorded in Portland and Los Angeles over the past year-and-a-half, and will feature all-new original material penned by actress/chanteuse Zooey Deschanel and produced by M. Ward. "I think that the dark shades that were on the last record are maybe a little bit darker on the new record, and the brighter shades on the last record are a little bit brighter on the new record," Ward tells Paste. "I think that people are going to hear more contrasts, which is always something that I shoot for in the studio."
Volume One was essentially recorded in a vacuum free of outside pressure and expectations, an atmosphere that the duo tried to recreate for Volume Two. "I think we approached the second record organically, the same as we did for the first record," Deschanel tells Paste. "But the songs are different so the record is different. We had a bit more time and resources so we were able to work a little deeper."
After almost two years of balancing She & Him recording sessions and nationwide touring with their other endeavors (like Ward's solo work and side-projects including Monsters of Folk, and Deschanel's recent roles in movies including 500 Days of Summer) the two are still finding new reasons to be excited about their once-seemingly-unlikely musical partnership.
"Zooey writes pretty often and she doesn't need any sort of encouragement," Ward says. "What I wanted to do was to show more dimensions to Zooey's writing, and I'm excited for people to hear the record because I think it's going to continue to show the strength of her writing."
"I learned that Matt can become a virtuoso of any stringed instrument he picks up, which is tremendously unfair to the rest of us mortals," Deschanel notes. "It's great to work with Matt because he is always true to himself, and working with him over an extended period confirms this time and again."
An official release date for Volume Two hasn't been set, but we're told to expect it in the spring. For the curious, we do know that Deschanel's new husband, Death Cab for Cutie frontman Ben Gibbard, will not appear on the album. (If you feel the need to weep, might we suggest doing so to the tune of the Twilight: New Moon soundtrack?)
For more on the new record, check out Paste's December/January issue, hitting newsstands in December.
Got news tips for Paste? Email news@pastemagazine.com.
Others Tagged With