Peter Gabriel Orchestral Covers Album On the Way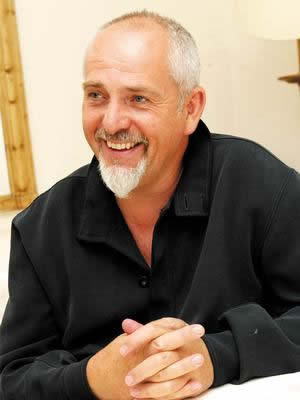 Peter Gabriel first LP in seven years will be something of a group project, an orchestral covers album that hosts an eclectic bunch of music hot shots performing each others' songs. The title, Scratch My Back, plays along with the record's tit-for-tat song swaps among artists like Arcade Fire, Bon Iver, Radiohead, Randy Newman and The Kinks, according to The Guardian.
UK-based composer John Metcalfe called the album a set of "major reinterpretations" rather than simple covers. "[It's] quite onerous, as some of the songs are among the best known in the last 40 years," Metcalfe told BBC 6 Music. "The album will be acoustic, using only orchestral instruments (no guitars, drums or world instruments), and range in size from sparse chamber music to a much fuller orchestral sound."
Gabriel recorded the album at George Martin's Air Lyndhurst studios in London, with Bob Ezrin producing. Ezrin's notable works include Pink Floyd's The Wall and Gabriel's self-titled 1977 record.
Scratch My Back's release is slated for Spring 2010, and some of the record's details remain unclear, such as its overall length and list of collaborators. Apparently Gabriel already unveiled one of the album's songs during this summer's Womad festival in London by performing Paul Simon's "The Boy in the Bubble" while accompanied by a string section. The song also appears on a primitive track list of Scratch My Back, released by a Japanese distributor.
The pool of potential collaborators in the list, though none are confirmed, is remarkable enough. "I'm not allowed to say who [is included], just yet, but there are some very, very famous singers and bands involved," said Metcalfe.
Take a gander for yourself. Again, the track list, including its artists, is completely unofficial:
1. Heroes (David Bowie)
2. Street Spirit (Radiohead)
3. The Book of Love (Magnetic Fields)
4. Flume (Bon Iver)
5. My Body Is a Cage (Arcade Fire)
6. Listening Wind (Talking Heads)
7. I Think It's Going to Rain Today (Randy Newman)
8. Après Moi (Regina Spektor or Eartha Kitt)
9. Waterloo Sunset (The Kinks)
10. The Boy in the Bubble (Paul Simon)
11. The Power of the Heart (Lou Reed)
12. Philadelphia (Neil Young)
13. Mirrorball (Elbow)
Got news tips for Paste? Email news@pastemagazine.com.