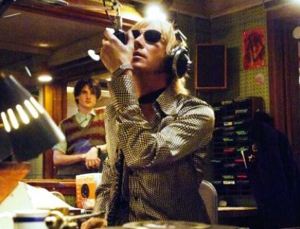 Release Date: Nov. 13
Director/Writer: Richard Curtis
Cinematographer: Danny Cohen
Starring: Bill Nighy, Philip Seymour Hoffman, Tom Sturridge, Kenneth Branagh
Studio/Run Time: Focus Features, 135 mins.
Raucous '60s retrospective adrift in simplistic plot
Nobody can accuse Richard Curtis' sophomore directorial effort of being less than a fun time. The writer/director of Love, Actually immerses his work in a sea of floral-lensed escapism, filled with lusty skirt-chasing and fraternal merry-making—and in Pirate Radio, a loose timepiece about a radio ship that broadcasts primitive rock 'n' roll in international waters to avoid government regulation, the good vibes keep rolling. It's worth seeing if only to witness Bill Nighy, Philip Seymour Hoffman and Nick Frost yuck it up as hedonistic, paisley-adorned disc jockeys with enough mojo to make Austin Powers blush. The waters become unforgivably shallow, though, if you're expecting a serious look into the legacy of the British Invasion or the film's historical inspiration, Radio Caroline. This is a warm-natured ensemble comedy that's bound to deliver a few smiles—just don't expect much more.
Watch the Pirate Radio trailer:
Others Tagged With