Terror in Mumbai Documentary to Air on HBO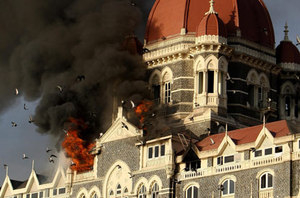 Almost one year after the terrorist attacks in Mumbai that left 170 people dead, HBO will air a provocative and deeply unsettling documentary revealing the details surrounding the violence of those days.
From Nov. 26-Nov. 29, 2008, a series of 10 attacks were carried out against various sites in Mumbai, India. Among these were the luxe Oberoi and Taj Mahal Hotels, a Jewish center, a café and a main railway station in the city. The dead and injured victims included Indians of all ethnicities and religions, as well as American and other foreign visitors.
The documentary, written and directed by Briton Dan Reed, culls footage of interrogations, video surveillance, audio tapes of cell phone calls between the attackers and their leader in Pakistan, and testimony from the sole surviving gunman. Although Heather Havrilesky of Salon.com comments that the attackers seem shockingly disorganized in the film, Reed warns that "such low-tech attacks could be duplicated anywhere, including the U.S."
Newsweek editor and Mumbai native Fareed Zakaria, who narrates the documentary, compares the events in Mumbai to the attacks on September 11, 2001 in the U.S. in terms of national and global impact. In the film he cautions, "The fact that a small group of gunmen was able to inflict so much pain, and the government of the second most populous nation on earth was unable to stop them for three days, should change our sense of the dangers out there."
Dan Reed's HBO documentary, Terror in Moscow, about the 2002 Chechen takeover of a Russian theater, was nominated for a BAFTA award in 2004.
Terror in Mumbai will air on Thursday, Nov. 19 at 8 p.m on HBO.
Watch the teaser trailer for Terror in Mumbai:
Got news tips for Paste? Email news@pastemagazine.com.
Others Tagged With