Aaron Sorkin Returns to TV, But Will He Triumph Again?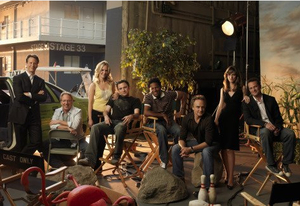 Aaron Sorkin, famed writer and creator of The West Wing, is returning to television with a new series.
Along with the juggernaut The West Wing, Sorkin was also responsible, with producer Thomas Schlamme, for the short-lived but Emmy-winning Sports Night, and the equally short-lived and less acclaimed Studio 60 on the Sunset Strip. The latter two were meta-series of sorts, TV shows set behind the scenes of fictional TV shows, paving the way 30 Rock.
Apparently, this is a format that Sorkin enjoys, because he plans to return to it with Schlamme on a new TV show. He is keeping mum about the details for now. As he tells TVGuideMagazine.com: "It's going to be what turns out to be the third in the trilogy of TV shows that take place behind the scenes of a TV show, but this will be a different kind of TV show." That's all he's had to say, other than hinting that he is interested in working with his acting alumni again, such as Allison Janney, Bradley Whitford and Felicity Huffman. "All these great actors that I've worked with," he says, "You just want to stick them in your pocket and work with them forever."
Until then, Sorkin is hard at work on the buzzed-about Facebook film, The Social Network, which follows the life of Facebook inventor Mark Zuckerberg (played by indie actor Jesse Eisenberg) and features recent Emmy winner Justin Timberlake. Sorkin wrote the screenplay and is also an executive producer on the film, while David Fincher (Fight Club, Seven) is directing. Sorkin demurs, "I think that the movie is going to be a little funnier than people are expecting." The Social Network is currently filming and is due to be released sometime next year.
Got news tips for Paste? Email news@pastemagazine.com.
Others Tagged With