Start Press: Your Part Of The Story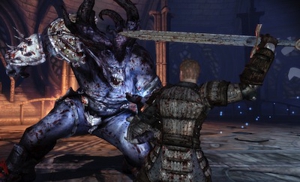 If you think about it, you could make a case for categorizing any videogame as fantasy. But I like the kind with pointy ears. I like the kind with bearded kings and blustery mountain passes and wars that have been raging for eons. I like dragons that belch flame. You've got broadswords. You've got battle axes. You've got mail—chain mail. I get a rush when high councils argue over the fate of the realm and unexpected treachery emerges, licking her snarling chops. There's a wildness and primitive nobility to the narrative staples of the genre—mead halls and sorcery and itinerant bards and silver-tongued courtesies—that strum some deep romantic impulse inside us. Call it heroic fantasy. Call it medieval fantasy. Regardless, J.R.R. Tolkien's tales of Middle Earth—not to mention the army of pipe-smoking wannabe wordsmiths humping the man's legacy—continue to resonate with people who are bored to death with the cushiness and complacency of modern life.
Recently I started playing two very different games that both have roots pulling nourishment from the dark soil of the fantasy genre. BioWare's staggeringly epic Dragon Age Origins casts you in the role of a new recruit to the Grey Wardens—a legendary order whose purpose is to protect the land against the evil darkspawn and slay the dread archdemon. The template is the stuff of classic quest narrative—reluctant hero is caught up in an adventure that's outcome will determine the fate of humanity. But where BioWare distances itself from the gaggle of studios developing fantasy RPGs is the level to which its writers manage to raise the narrative stakes. The characters are written with such nuance that you actually give a damn whether they live or die. They feel relatable on a gut level and earn your emotional investment as a result.
If we are to judge roleplaying games by how dynamic and effectual your in-game choices feel, then Dragon Age Origins may just be one of the greatest RPGs to come along in years. Choices have real consequences. There's enough moral ambiguity to resemble real life. And players who pride themselves in acting the part of the hero better be ready to make sacrifices.
At one particular settlement early in the game, I came across a merchant whose business was booming due to the fact that he was able to capitalize on the desperation of the townsfolk and war refugess living in the area. He'd pay half nothing for their goods and then sell them back at an exponential mark-up. When you arrive on the scene, an impoverished woman is arguing with a merchant about how his business practices are hurting the people of the village. I could hardly wait to give the weasel a nice drubbing and have my heroically sized ego stroked afterward by fawning townspeople.
But here's the rub: the more I talked to the merchant, the more apparent it became that he wasn't the obvious villain I'd initially assumed him to be. Because of the war, he had a more difficult time procuring quality goods to sell, not to mention the fact that they were more expensive due to the mortal risk of transporting them along volatile supply lines. Demand had skyrocketed, rendering the goods on his cart more valuable as a result. He wasn't running a charity. He was a merchant trying to make a living.
At the end of the day, my bleeding liberal heart got the best of me and I told the guy on no uncertain terms that his price-gouging days were over. I'm sure you can guess what happened next. He said something to the effect of, "Screw thine bloody village, I'm packing up the wagon and will sell my goods somewhere else." All of a sudden I realized the townspeople, thanks to their valiant hero, no longer had an immediately accessible means of buying imported goods. Not to mention I desperately needed new weapons and armor for the adventurers in my party and the person I would've bought them from just skipped town. Two words: epic fail. How many times in your life have you encountered a videogame with such richly imagined story points that it forced you to consider the moral dimensions of economic theory?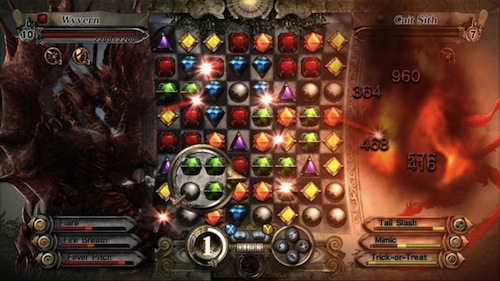 That being said, there are plenty of times when I'm not in the mood to wrestle with moral conundrums. I just want the gaming equivalent of McDonald's fries—bite-sized, tasty, instantly gratifying. Thanks to a new collaboration between Japanese RPG titan Square-Enix and the king of casual gaming, PopCap, there's a brilliant downloadable Xbox Live arcade title that just arrived this past week called Gyromancer. Following in the footsteps of Infinite Interactive's Puzzle Quest: Challenge of the Warlords, Gyromancer offers an addictive hybrid of fantasy-RPG storytelling and puzzle-based combat.
You play a character named Rivel, a summoner who has the enviable power of being able to call mythical beasts to fight on his behalf. The gameplay itself is modeled after PopCap's Bejeweled Twist and is just as impossible to put down. While Gyromancer's writing is certainly adequate, I was surprised to find myself skipping story cutscenes (not a common practice of mine). I suppose it's a testament to the brilliance of the puzzle gameplay that I wanted to get back to jewel-twisting as quickly as possible. But there was also the frustrating lack of interactivity with the story. I had no decisions to make that would alter the course of the narrative and I quit caring after a while.
Eschewing the deep interactivity that contemporary games can provide, Gyromancer essentially spoonfeeds players niblets of story as a Snausage treat for solving a given number of puzzles. Sadly the majority of games have absolutely no clue how to approach story implementation. In the case of Gyromancer, I'd probably derive just as much pleasure from playing Bejeweled Blitz on Facebook for an hour (or seven) and then curling up on the couch with George R.R. Martin's Clash of Kings. I don't want to read books on my television any more than I'd care to watch movies on a coffee maker. But writing my own heroic feats in the context of a medieval videogame world—now that's an entirely different story.
Jason Killingsworth is Paste's games editor. He is based in Dublin, Ireland, and writes about music, film, tech and games for a variety of outlets. You can reach him online at jason [at] pastemagazine.com.
Others Tagged With